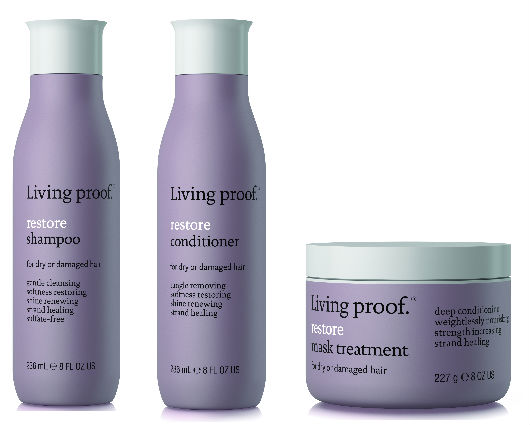 Living Proof is easily one of the most solid haircare lines on the market right now. In fact they have yet to develop an shampoo or conditioner I haven't liked (I'm still working my way through their styling products) and their Frizz line is a staple in my bathroom. With winter around the corner, Living Proof is adding a new sulfate-free collection to their existing line of Frizz, Volume, and Straight products; Restore!
Formulated to restore your hair from the damages of heat styling, processing and seasonal dryness, Restore avoids using oils and silicones other brands use to combat dryness and damaged hair; which leave hair feeling greasy and dirty, leading to more washing, styling and processing (perpetuating a cycle of increased dryness and damages). "Restore really challenges the status-quo. It is a solution that addresses the causes of dryness and damage, offering immediate and long-term benefits, without oils and silicones," says Jon Flint, CEO and co-founder of Living Proof. "Living Proof aims to solve the toughest beauty problems. We're not satisfied with offering just a quick fix."
Consisting of a shampoo ($28), conditioner ($28) and mask treatment ($42), Restore is developed with the moisture-controlling molecule, PolyfluoroEster, to create a protective layer on hair.  Restore also increases the hair's resistance to breakage by up to 5 times, while healing, protecting and preventing further damage.
The collection has definitely strengthened my hair and added moisture, however it's too concentrated if I use it everyday on my hair and causes slight build up. Instead I use it twice a week or with a weekly clarifying shampoo and then it's weightless properties come through and whether I leave it natural or straighten it, my hair is shiny and full without being weighed down or frizzy. The all star product from the line is their Restore  Mask Treatment. I tend to be dryer on the ends of my hair so 5 minutes with this mask 1-2 times a week has really helped to hydrate, smooth them out and protect from split ends and heat damage.
DISCLAIMER: A complimentary sample of Restore was given to Pretty Connected for post consideration. Pretty Connected was under no obligation to write this review.