Lets face it, men can be impossible to shop for. Which is why I'm kicking off my holiday gift guides with what to get him this holiday season!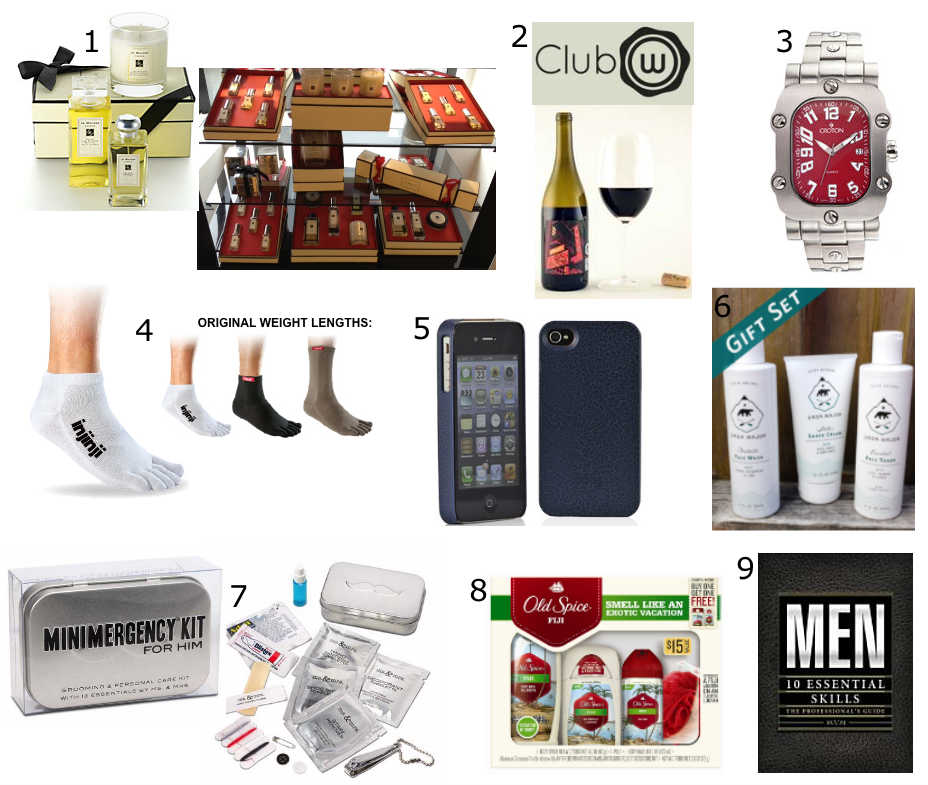 1. Jo Malone Holiday Sets – Jo Malone has a medley of holiday gifts mixing their amazing colognes, candles and bath oils at all different price points and sizes. Featured above is the Jo Malone Pure Pleasure Collection ($240) which includes 100ml Cologne, 200ml Bath Oil, and Home candle in your choice of fragrance, perfect for any sophisticated male on your list and available on jomalone.com. If you need a fragrance recommendation, I'm partial to the Lime Basil and Mandarin Cologne for men.
2. Club W Membership!  Club W is a member's only (registration is free!) website that allows members to purchase wine from boutique wineries. You can also sign up for monthly wine deliveries curated by their experts and have them shipped to you ranging from 3 bottles ($40/month), 6 bottles ($70/month) or 12 bottles ($120/month). Sign up at clubw.com
3. Croton SSMN Industrial Watch ($450). Croton is notorious for high quality lifestyle watches that can be worn for every occasion. I'm partial to this stainless Steel beauty available on crotonportfolio.com
4. Injinji Performance Toesocks ($12) available on injinji.com. If he's an athlete of any type, he needs to try Injini. It take a bit of getting used to wearing a 5 toe sock, but it prevents your toes from rubbing together and the the blister protection and moisture management, keeps your feet dry, cool and comfortable. And I swear my foot feel more supported and they create less friction when I run.
5. iPhone 4/42 Leather Touch Pong Case  ($59.99) available on pongresearch.com. Besides being a firm, cool case with a crackle blue/black leather-like finish, Pong™ cases additionally protects you, your phone and your signal. Pong is the ONLY solution proven by Federal Communications Commission (FCC) certified laboratories to protect users from cell phone radiation while not compromising phone performance and is proven to reduce SAR up to 95% below FCC limits (SAR stands for Specific Absorption Rate and measures the amount of radiation absorbed by a cell phone user's body).
6. Ursa Major Big Kahuna Skincare Set ($72) includes a full-size Fantastic Face Wash (8 oz), Stellar Shave Cream (5.1 oz) and Essential Face Toner (8 oz). Known as "super natural skincare", Ursa Major uses premium ingredients to create effective skin care products that you can feel good about putting on your skin. And the face wash is a new addition to the line and I'm in love with it. I recommend buying it for your boyfriend, so you can use it too. Plus, it comes awesomely gift-wrapped –see for yourself! Click the link, the set is available on UrsaMajorMen.com
7. MINIMERGENCY KIT FOR HIM Grooming & Personal Care Kit with 13 Essentials by Ms. and Mrs. ($12). Shoot me if this isn't the cutest stocking stuffer ever. In this packaged tin (which gets extra points for having a mustache in it) contains: Lip Balm, Dental Floss, Breath Freshener, Stain Remover, Mending Kit, Safety Pin, Extra Buttons, Shoe Shine Towelette, Nail Clipper, Hand-Sanitizing Towelette, Deodorant Towelette, Adhesive Bandage, and Pain Reliever. It's super handy and available on store.msandmrs.com
8. Old Spice holiday gift sets ($8.99). If your guy is manly like the Old Spice Man or just loves the commercials, here's an affordable set that comes in three scents, Figi Scent, Red Zone's Seagger and High Endurance Pure Sport and includes their Anti-Perspirant/Deodorant (3.25 oz), Body Wash (16 fl oz.), and Body Spray (4 oz.), a pouf. These sets are available at Walmart, Target, Drugstore.com. Visit their website to see the latest Old Spice Guy ad!
9. Men: 10 Essential Skills: the Professional's Guide by Robert Valdes-Rodriguez (19.95)  available on rvrmenskills.com. If you're man has ever wondered how to tie a tie (or bow tie), play poker, order wine or how to keep a girl happy (it gives great advice, we're always right!), this handy dandy book is quite the gentleman's guide. And it's lightweight for being hardcover and gets straight to the point to make it an easy ready. It's also great for women since a lot of these how-to's I've always wanted to know how to do! Chapters include: 1. Tie a Tie (Bow Tie Included), 2.Swing a Golf Club 3. Play Poker 4. Light and Smoke a Cigar, 5. Drive a Stick Shift, 6. Propose a Toast, 7. Catch a Wave, 8. Order and Taste Wine, 9. Mix a James Bond Martini, 10. Keep the Girl.