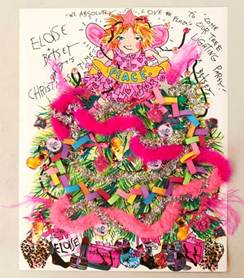 I die! Betsey Johnson is partnering with the The Plaza to design the hotel's first official Christmas Tree this holiday season.  Inspired by the iconic fictional Plaza resident, Eloise, the Christmas tree will be unveiled during a special 'Tree Lighting Tea' in The Palm Court on November 28 at 5pm, hosted by The Plaza and Betsey Johnson. The Plaza also recently opened the designer's first holiday 'popup' shop to offer an exciting collection of giftable items.
"I absolutely loooove The Plaza, along with Eloise of course!" says Betsey Johnson. "I'll be poppin' in to light the Eloise tree and kick off my Betsey holiday pop-up shop, filled with my favorite stocking stuffers and more. There's something for everybody! Pop in and say hi! XOX Betsey."
This hits a sentimental cord considering growing up I loved reading Eloise. I actually still have my original copy from when I was 5yrs old in my bookshelf.
Join the official 'kick off' for the 'Tree Lighting Tea', which going forward will be an annual affair as well as serve to introduce the brand new Holiday Tea menu, featuring a combination of sweet and savory seasonal items.
Reservations are now open to the public and an be made by calling (212-546-5300) or by emailing [email protected]. Pricing for the Tree Lighting Tea is $79 per adult and $45 per child, and includes a champagne toast as well as a 'mocktail' for their younger guests.