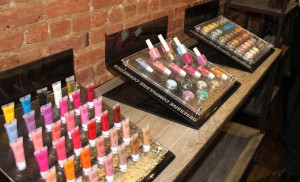 Obsessive Compulsive Cosmetics (OCC) recently opened their first store in NYC's Lower East Side. The Pretty Connected team hit up the 100% vegan, makeup lines grand opening for an inside peak into the world of OCC with renowned makeup artist and founder David Klasfeld.
I've met David on a few occasions at makeup shows, expos and industry events, but otherwise finding his products (that's not direct from his website) is next to impossible! The opening of his first store marks the first time this pro and cult favorite makeup line is available in a retail space to the public.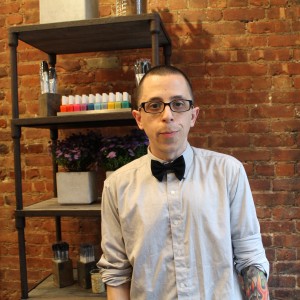 And what a fitting space it is! Especially since the brand was originally conceived in 2004 in David's kitchen in his then LES apartment. Housed in a cozy space with exposed brick, OCC is a welcomed addition to this creative and artistic neighborhood. The store offers private consultations and makeup applications by their Professional Makeup Artists, including tutorials on how to perfect airbrush makeup. OCC also has a Mixing Bar where you can custom create (or re-create) your perfect shade. Keep that in mind next time your favorite lipstick is discontinued (or limited and edition) and you need it recreated!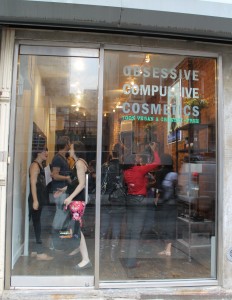 One thing I've always appreciated about OCC Cosmetics is it's high pigment, bold colors and how a little goes a long way with their products, (especially the Lip Tars). And they aren't afraid to get loud and bright –even in the fall! When visiting the store, be sure to check out their new F/W 2011 Colour collection, Pretty Boy, which is inspired by glam rockers like David Bowie and Boy George.
What's David excited for next? "I'm super excited about a new concealor were developing. You can use it to do a full face or for touch-ups. And it's full, serious coverage. Hopefully it launches in the spring!". Stay tuned!
Obsessive Compulsive Cosmetics flagship store is located at 174 Ludlow Street (between Houston & Stanton). For more information visit www.occmakeup.com