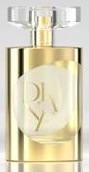 When legendary fashion designer, Diane von Furstenberg spoke at Lucky Magazine's Fashion and Beauty Blogger (FABB) conference, it was clear she had it all, style, fame, loving family and despite a jet-set, high profile lifestyle she maintains a healthy work/life balance, and is completely lovely. A true icon that has earned every ounce of her success and our respect.
Recently she has been making headlines for the launch of her new signature scent, Diane. And get this DVF fans, Diane von Furstenberg will be stopping in multiple cities around the U.S. to host a series of exclusive events to celebrate the launch of Diane and you're invited! Guests who purchase Diane will have the opportunity to meet the designer and have their fragrance autographed.

Here are the dates and locations of DVF's tour.
October 19th – Bellevue, WA @ Nordstrom 7-9pm
October 21st – South Coast Plaza, CA @ Nordstrom 6-8pm
October 27th – Soho, NY @ Sephora 6-8pm
November 1st – Dallas, TX @ Sephora 2:30-4:30pm
November 3rd – Aventura, FL @ Sephora 5:30-7:30pm