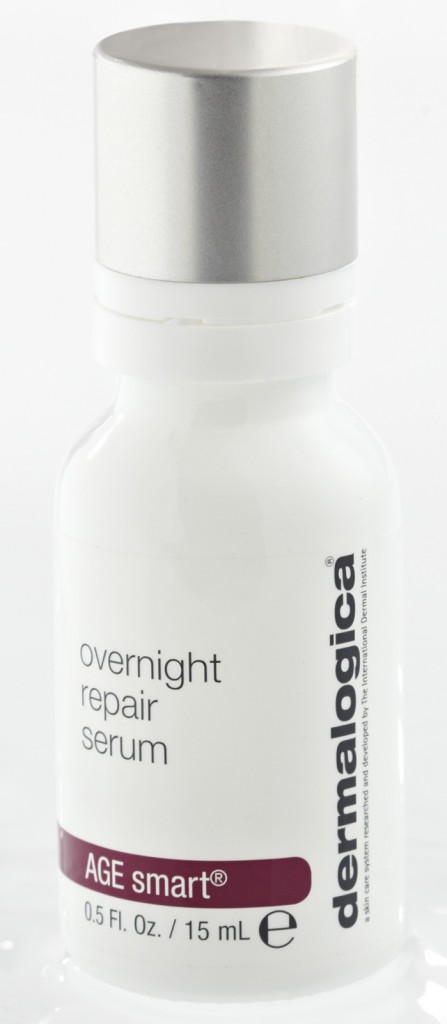 In the latest addition to their ever-so-popular, award-winning, Age Smart skincare collection, Dermalogica introduces their new Overnight Repair Serum. Similar in both packaging and texture as an essential oil, their new serum was created to hydrate, firm, and protect skin as you sleep.
As instructed I pressed 4-6 drops directly to skin (it can also be added to a moisturizer and then pressed in), and not only did it absorb quickly, it created this amazing barrier of hydration around my skin and the next morning my skin was noticeably smoother, softer and more plump.
Formulated with Palmitoyl Tripeptide-38 and Alaria Extract to help increase collagen renewal, hydrating, firmness and dermal strength; Argan Oil, Vitamin E and essential fatty acids to help restore a weakened barrier layer, lock in moisture and increase elasticity and Rose Hip Seed Oil to help minimize discoloration while helping to boost cell renewal. So while some may by hesitant to apply an oil directly to their skin (no it will not cause you to break out), comparatively to a lot of the ones on the market it's on the lighter side and for an oil, it's not messy or very greasy.
The scent is so relaxing; I'm all about breathing it in while applying it to my face. During my visit to Dermalogica, the staff took my through various acupoints on the face and how to apply it to help relieve anything from headaches to sinus pressure to balancing your hormones. I was so calm and relaxed by the end of it that I asked for a copy of the chart so I could repeat the exercise at home (and share it with all of you!).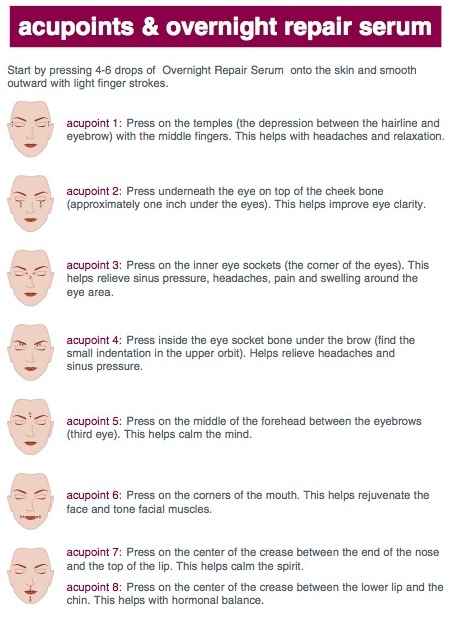 I may need to start carrying this product (and chart) with me in my purse.
For more information on Overnight Repair Serum visit Dermalogica.com
Disclaimer: A complimentary sample was provided to Pretty Connected by a company representative at press event in honor of the launch of this product. Pretty Connected was under no obligation to right this review.