For the first time ever Guerlain is doing an online pre-launch of their holiday collection, Belle de Nuit, by partnering with the influential online discovery destination AHAlife.

Starting today, fans of the infamous beauty brand can purchase the artfully designed and packaged collection before it is available elsewhere.  The collection was informed by the 1933 Geurlain collection called Vol de Nuit, which was inspired by daring women of that era, Amelia Earhart and Jacqueline Cochrane. The packaging for Belle de Nuit, was designed with a propeller in mind to celebrate the beauty of flight.
This month also marks the one month anniversary of AHAlife, which the influential online destination celebrated with a fashion week gathering at the chic offices of premiere trend forecasting service company, Stylesight.
The Pretty Connected team attended the festivities, which was packed with a lively crowd, flowing drinks, and photobooth. Hangover tonic, Mercy was also served to help guests circumvent any morning badness.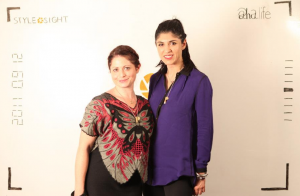 To purchase the Guerlain Belle de Nuit collection visit AHAlife and become a member of their one of a kind service for more updates on highly coveted, unique sales curated by their tastemakers and influencers.