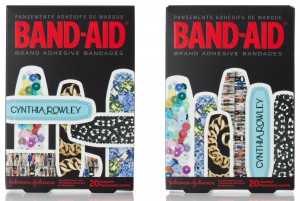 I am obsessed with the Cynthia Rowley BAND-AID's that launched last year. Like literally OBSESSED! I stalked them at an event once gushing over them only to find out that they were limited edition and no longer available. I've been rationing them ever since. Then I got an email right before fashion week started that BAND-AID is bringing them back! And hitting the streets during fashion week in their "Glambulance" to offer solution to your style woes. This repurposed ambulance will be fully equipped with a hair stylist, seamstress, make-up artist Mickey Williams, and fashionable First-Aid supplies. I'm so excited, and considering my obsessions for the brand they have asked yours truly to be a "fashion emergency" ambassador for the brand.
The BAND-AID® Brand by Cynthia Rowley Adhesive Bandages ($4.25) come in a variety of 7 designs, including gems, sequins, lace, gold chains and a runway show. They will be available on CynthiaRowley.com starting today, and at mass retailers in December 2011.
WHEN & WHERE YOU CAN FIND THE GLAMBULANCE:
Thursday, September 8th, 4 p.m.-12 a.m. (Fashion's Night Out)

Glambulance stationed at 5th Ave. and 52nd S
Make sure to enter the Fashion Malfunction Facebook Contest during Fashion Week and tell them your worst fashion emergency story for the chance to win a $2,500 Cynthia Rowley fashion spree and styling session. Visit www.Facebook.com/Band-Aid to enter! Or don't — that just increases my odds for winning;)
Disclaimer: In accepting to be in the Cynthia Rowley BAND-AID ambassador program I was gifted boxes of the brand and a $100 amex card.