Stockings, tights, socks and everything in between – I just love it.  Come fall, I start planning my outfits around my leg wear so you can understand how thrilled I was to discover a new outlet for my irrational passion – Sock It To Me.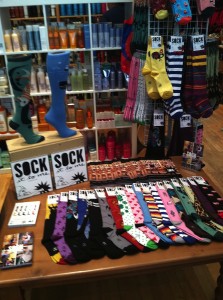 At a party celebrating their new line, at awesome NYC general store Thérapie (a new discovery!), I found cute socks, nail art by east village salon Vally, and SITM themed cookies by Sweet Genius
Based in Portland OR, Sock It To Me is owned and operated by entrepreneur, Carrie Atkinson. Keeping her socks affordable and encouraging her fans to build a community through sock love are top goals.  With this is mind, the company hosts contests open to the public to create new designs.  This year's top prize winner is the "koi fish".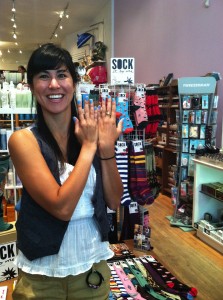 Sock It To Me has 100s of unique socks for men and women, plus a special selections for curvy girls, so everyone can find something to match their style.
Guests got to choose a few pairs of socks on the way out (Thank You SITM!). I went with the Peakcock II and Tree Owl and I fully plan to be shopping all the options on www.sockittome.com as the colors change on the trees.
– Elizabeth Borenstein