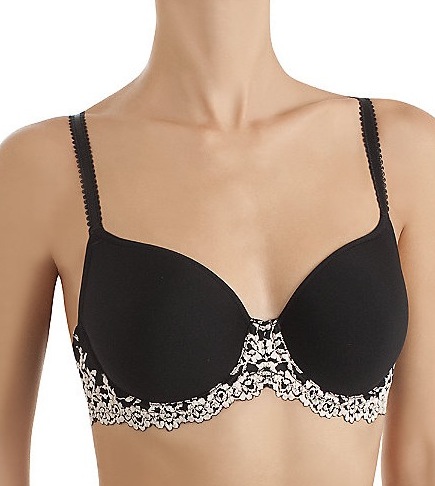 I recently attended an event for Wacoal, which included a bra fitting and I can't express my love and gratitude enough for this brand! First off I'll start by confessing that I'm a 32DD –although if you've ever met me you'd probably swear I wasn't above a B cup (unless you've seen me in a bathing suit). And I strive to keep it that way!
I know it's a tough sell as a complaint and I'm a disgrace to women everywhere who want implants. I'm reminded regularly, but frankly I didn't ask for this size, or the challenges of finding a button down shirt that doesn't involve gaping at the chest or a dress that doesn't require being taken in to accommodate my disproportion. And if that's not enough of an excuse, two words: Back Pain.
And my least favorite part of it all, bra shopping! Especially with brands that believe in vanity sizing or that include padding their larger cup sizes (I mean seriously?). And don't even get me started on minimizes –they are usually so unattractive and have crazy thick straps! No, thank you.
I walked into the Wacoal event, expressing to Tracy (my amazing fitter) my dilemma and bra objectives –I want something that's supportive, doesn't look like I'm trying out for Playboy or makes me look larger then I actually am and is attractive! I'm willing to wear grandma looking bras when I'm just that… a grandma. She measured me and brought out three options. ALL WINNERS –they fit my requirements and were so sexy! I was about to volunteer for their catalog, I was that excited. This event also made me appreciate working with an experienced fitter to weed through the usual grueling process (please note I said "experienced" fitter –that teenager at Victoria Secret does not count). I was gifted one of the bras and promptly went to Macy's the next day to purchase the other.
Tracy also introduced me to Larissa who is a fitter for Wacoal at Bloomingdale's, and will now be my go-to for when I need replacements. She also gave me some great advice (check out Wacoal's website for some additional tips):
You should purchase a minimum of 3-6 good bras/year and if rotated and cared for properly that's all you need.
Start with two dark and one light one as your staples, from there you can add your fashion colors (those are usually the impulse purchases).
Do not put your bras in the dryer!
A good bra should sculpt your body and the back strap should never hand higher then the front.
If your cleavage doesn't have nice separation then you need a bigger cup.
Make sure you adjust the breast tissue to the cup so it falls edge to edge before determining if the cup fits appropriately.
After the fitting, I spent sometime with my fellow bloggers at the event and talked about our experiences. Small or large cup we were all gushing with excitement over our new bras. Who knew one of my least favorite subjects could be so enjoyable?
For more information on Wacoal visit http://www.wacoal-america.com/
Disclaimer: A complimentary bra was gifted to Pretty Connected by a company representative. Pretty Connected was under no obligation to write this review. See my About/Disclosure tab for more information.