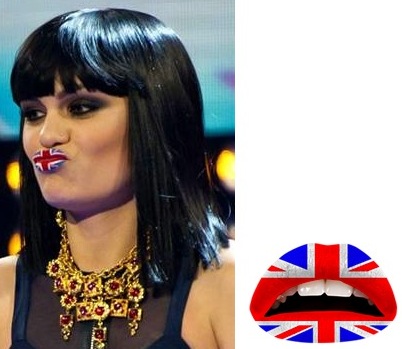 Singer-songwriter, Jessie J showed off her London pride during a recent performance on Britain's Got Talent.
Check out her lips (not that you could miss them), they are awesome! She's rocking the Union Jack pattern (available June 20th) from Violent Lips.
This is the first I'm hearing about Violent Lips –although the line seems anything but violent. Priced at $14.95 for a set of three, they offer a full range of cruelty-free, vegan lip tattoos in a variety of prints and colors that are FDA approved.
I'm definitely going to need to test them out, although I don't think I can pull off a a flag of any sorts (except on the 4th of July). I have my eye on the Multi-Checkered and Red Polka!
For more information visit ViolentLips.com