In recognition of their adventurous heritage, skincare brand, Kiehl's Since 1851 is partnering with National Geographic's Young Explorers Program, in support of three promising young explorers, Joe Riis, Asa Firestone and Benjamin Horton during their thrilling pursuits around the globe.
They launched a very cool Adventure Facebook tab which shows footage of these explorers journeys– Joe as he travels through Grand Teton National Park to documents the migration of the Pronghorns, Ben as he scuba dives into the waters of the Cocos Island of Costa Rica to create change for the wildlife, and Asa as he climbs through Rio de Janeiro.
Inspired? Become a fan of Kiehl's on Facebook and enter to win your own adventure. Kiehl's is offering one lucky winner a chance to win a trip for two anywhere of their choice in Costa Rica, Brazil or The US, with 3 days/2 nights hotel accommodations (up to a $2,500 value); 2nd place wins matching Patagonia Jackets ($550 value), 3rd place wins a Kiehl's "Adventure Tested" Gift Box ($250 value). To enter upload a picture of yourself that embodies your sense of adventure and tell them why in 1,000 characters or less!  If you're not into entering, it's still fun to breeze through the contestants and vote your favorite (you can vote once/day). Enter on Facebook HERE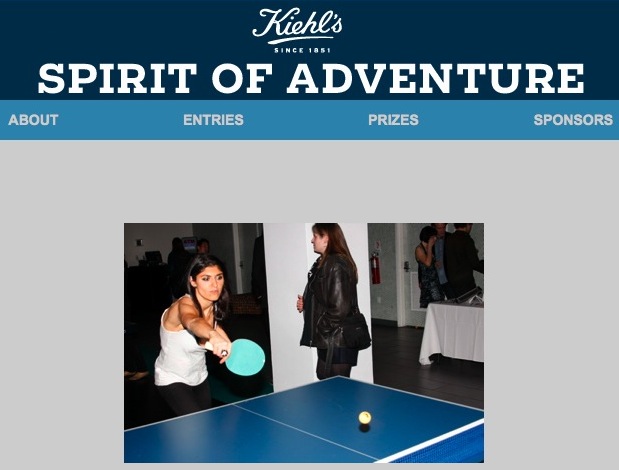 I entered for the fun of it (since technically I'm disqualified seeing as I consult for Kiehl's) that ping pong and www.prettyconnected.com ignites my sense of adventure, since ping pong and www.prettyconnected.com ignite my sense of adventure. What ignites yours? I want to see your entry.