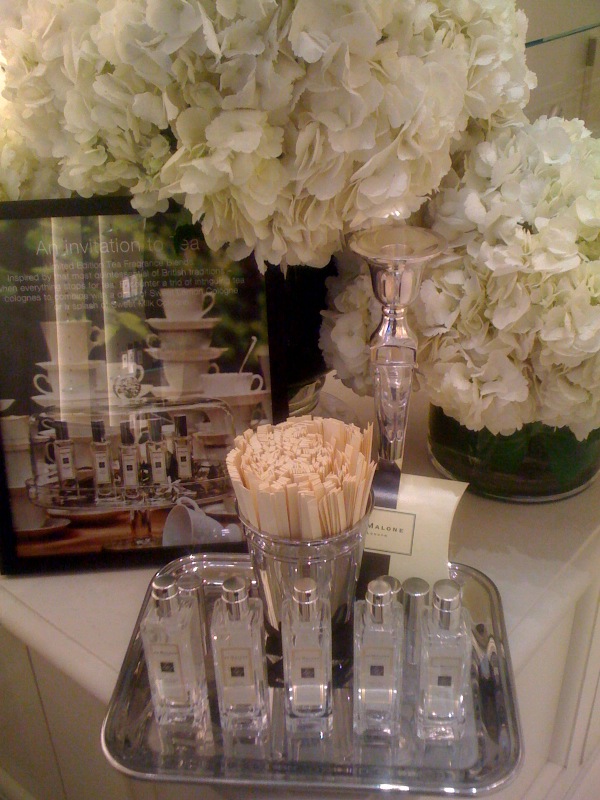 At the beginning of the month I posted about Jo Malone's NEW Limited Edition Tea Fragrance Blends ($55), which came in five flavors, Assam & Grapefruit, Earl Grey & Cucumber, Fresh Mint Leaf, Sweet Lemon and Sweet Milk; which can either be worn alone or layered on top of each other. I also updated the post to include an invitation to High Tea with Jo Malone in honor of the launch. Hopefully some of you were able to make it!  Having previewed the Fresh Mint Leaf and Sweet Milk fragrances I was anxious to experience the rest of the collection –especially since they were expected to sell out by April!
Prior to attending the event, my experience with Jo Malone has been rather limited. A candle here, a sample there, but mostly I've admired them from afar. My enjoyment of the brand has mostly come from press they have received or from their counters at Saks Fifth Avenue where I'd marvel at the packaging. To be honest, I find fragrance shopping overwhelming. I like to hear about a scent, go to a store that carries it, try it on, walk around for an hour, then decide if I like it enough to go back and purchase it.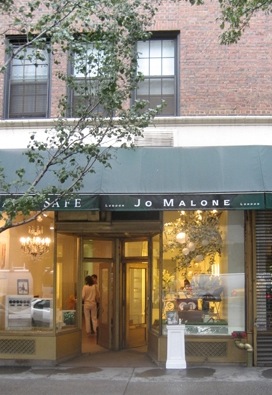 Since the event was hosted at their store on Madison Avenue (which was the first time I had been there), I expected to learn about new scents and try the three I had not experienced yet and call it a day. Instead, I contradicted everything I just said and spent over an hour sampling and learning about the different fragrances.  The staff was so friendly and the event host, Jo Malone expert, Shaun Rowan really took the time to walk me through the line and introduce me to several collections—without overwhelming me. If you're in the neighborhood, stop by!
What sets Jo Malone apart for me is their fragrances are very clean and simple. They can be worn alone or mixed and still maintain a status of being a fresh individualist fragrance. I don't feel that way about the majority of the fragrances out on the market. They have so many notes already mixed into the blend, there's no foundation to change them without it becoming incredibly heavy –or just wrong.
I also enjoyed several cups of Amanzi Tea, which they were serving as part of the event and learned some interesting health tidbits. For starters, tea is always better for you when brewed loose over ground, since it has a lower caffeine content and retains all of it's antioxidant properties. This is because tea bags that hold ground tea lose all the antioxidants content and have a larger surface area, which absorbs into the water and in return absorbs the caffeine into your body quicker (so the caffeine hits you stronger).
So if you're using a tea bag vs. brewing your own tea, look inside to see how large the leaves are (and opt for a different brand if you see powder–I'm looking at you Lipton). What I also found very cool and unique about Amanzi tea is that they include the brew time (I guess I always assumed I brew it until the color came through or before the taste was too strong), and the break down of the caffeine content on a scale from zero to high so you know how much you're getting. That's a much more effective system then writing caffeinated vs. non-caffeinated. Additionally, their website is a great resource for which teas benefit certain symptoms (Yerbe Mate for mood, black for energy, Rooibos for Insomnia, Oolong and Geen for your insulin levels…).
All in all I had a very productive and educational afternoons!