Brutal winters, like the one we're currently experiencing with harsh winds can affect and damage our skin.  You may have noticed your skin is increasingly more dry, dull, or flaky this season. Here are some tips on how to get your skin back on track and prepared for the winter months ahead.
Water temperature: Be sure your water is lukewarm when taking a shower or bath–hot water is very. Pat skin dry instead of harshly rubbing with a towel.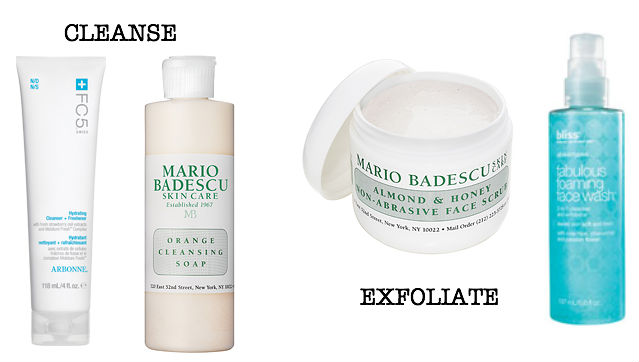 Choose a Hydrating Cleanser to help deep condition and rebalance dry skin. Ideal for normal/dry skin, I like ARBONNE Hydrating Cleanser + Freshener ($25) when my skin gets ultra dry–it's very rich and creamy. I'm also a fan of Mario Badescu Orange Cleansing Soap ($20), which is a light, non-drying gentle cleanser which works for all skin types, and serves as a makeup remover as well. Same rule with washing your face as with showering, use warm (not hot) water.
Exfoliate 1-2/week: Exfoliants help remove dead skin cells and restore a healthy complexion. Plus, it makes moisturizing more effective when applied to exfoliated skin. Just be sure to do so at night when you're skin is not exposed to the sun –you don't need that added risk of UV exposure. Apply in a circular, upward motion to get your circulation going. I recommend Mario Badescu Almond & Honey Non-Abrasive Face Scrub ($15), it gently buffs away dead skin cells. If you're skin type is oily and you prefer a stronger exfoliant, try Bliss Fabulous Foaming Face Wash ($22), although I recommend following up with a rich moisturizer after.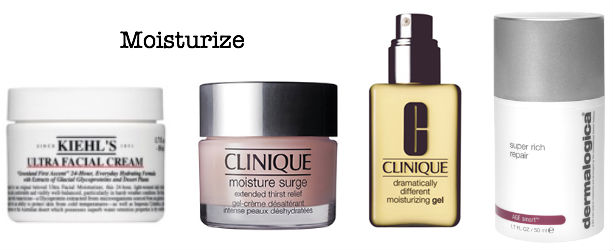 Moisturize, Moisturize, Moisturize: Especially right after showering for a more hydrating effect. I swear by Kiehl's Ultra Facial Cream ($24.50), it's lightweight with a great cooling effect and just glides right into my skin upon application. For very dry skin try Clinique Moisture Surge Extended Thirst Relief ($34). It's an amazing gel moisturizer that feels like a tall glass of water going directly into your skin and offers immediate moisture. If you're skin type is oily, try Clinique Different Moisturizing Gel with Pump ($24.50) as an alternative. If you prefer a heavyweight, rich cream, Dermalogica Super Rich Repair ($77), with Shea Butter and Oil of Evening Primose is ultra hydrating.

Don't Forget a Mask: Masks are a great way to add some extra hydration. I'm obsessed with Dermalogica Multivitamin Power Recovery Masque ($44) which has Vitamin A, C, E, and F and makes my skin glow! Especially if it's hung-over (I mean dry due to external factors), it rebalances it. For sensitive skin try Darphin Intral Mask ($55) which almost fully absorbs into the skin during the 5-10 minutes it's recommended to be worn prior to tissuing off.  It helps soften skin for a more your complexion. When my skin gets very dry I opt for ARBONNE Intense hydration Masque ($32) to help revitalize it.
Wear Sunscreen: Wear it daily! Most of pre-mature aging comes from exposure to UV rays, as well as dark spots and freckles, so protect yourself with wearing a minimum of SPF 15. I like La Roche-Posay SPF 15 Anthelious SX Daily Moisturizing Cream with Sunscreen ($29.95). It's a lightweight moisturizer that absorbs evenly and easily onto skin without being chalky or oily. If you prefer to not have your SPF in your moisturizer or need a higher SPF, try Kiehl's Super Fluid UV Defense SPF 50+ ($34); it's oil-free and lightweight and can be worn daily after your facial moisturizer.
Don't Neglect your Eyes: Wear sunglasses when it's bright out! Squinting can cause crow's feet. To help protect against it and premature aging, try Dermalogica Intense Eye Repair ($47). It's great for dry skin and absorbs invisibly into skin. Another great one is Kiehl's Creamy Eye Treatment with Avocado ($25.50), which is thick and creamy formula infused with avocado eye to gently hydrate the eye area.
Last but definitely not least, drink lots and lots of water!
Disclaimer: A complimentary sample of all of the Dermalogica, Arbonne, Mario Badescu and Kiehl's products featured, as well as Clinique's Different Moisturizing Gel with Pump were given to Pretty Connected by a company representative for consideration of a post. Darphin and La Roche-Posay products we're received in a gift bag these brands donated product to.  Pretty Connected was under no obligation to write this review.