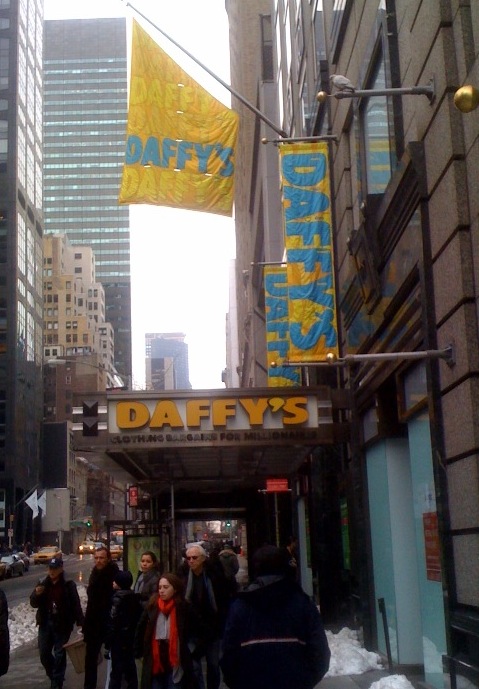 Have you ever been to Daffy's? If you live in the NYC you've probably walked by their stores; there are several. They are the discount retailer with big yellow signs with their DAFFY'S logo in large print written all down the front. Up until this week, my only other knowledge of the store was that "the ones in Jersey are the best". Or at least that's what a former colleague once told me when I complimented her on a jacked she purchased there.
Having been given a $50 gift certificate, I took the afternoon off to explore their assortment and do a little shopping. For the men's department, I was shocked to see Sebago (one of my favorite brands for boat shoes) priced at $49.99, then further reduced on clearance for $37.49 (they generally retail for $120).  For kids they had a great assortment of dresses and jackets. My big find was kids Ralph Lauren button down polo shirts for $16.99 (those retail for $40).  Then on to women's to really get down to business and do a little shopping for myself.
Overall the clothing wasn't my aesthetic, however I was impressed to that they carried a limited assortment of Patrizia Pepe and Les Copains pieces. Both of these brands are very well known in Europe, and priced easily at 50-75% off from what they would retail for abroad. Their fragrance wall carried a large variety of luxury lines including Chloe, Burberry, CK, and Ed Hardy all priced around $15-$20 below retail.

After browsing the different departments of the store, I decided to spend my gift certificate split between the home department and socks. I found a great office desk organizer and wastebasket set, which perfectly complimented my New Years resolution of being more organized. There are actually way too many products on my desk so I plan on using the wastebasket to temporarily store any items I'm in the process of reviewing instead of for trash. Then headed over to socks where there was a large assortment of brands including Calvin Klein, Puma, Cole Haan and Hue brands. I settled on a 3-pack of HUE knee-hi tights for the office, a 3-pack of Puma ankle socks (for when I theoretically start working out again), and a pair of gorgeous ILUX silk knee-high socks. I wasn't familiar with ILUX, apparently they are made in Japan, but I have pronounced them my new favorite sock brand. They aren't cheap, Daffy's had them priced at $8.99 (down from their regular retail price of $19.99), but their quality and design is superb.

So here's how I did:
Budget: $50
Recap of Purchases:
3 Pair Pack of HUE Nylon Knee-Hi's  $6.99 (SRP: $15)
ILux  Striped Silk Knee-High socks $8.99 (SRP: $19.99)
3 Pair of Puma ankle socks $6.99 (SRP: $12)
Desk Organizer $11.99 (SRP: $24)
Office Waste Basket $13.99 (SRP: $28)
Not bad for an afternoons work! Total spent: $48.95 before tax, so with tax I was only a few dollars over, which is quite impressive for all of my great finds. I saved over $50. Not bad for an afternoons work!
Disclaimer: A complimentary $50 gift certificate was given to Pretty Connected by a company representative for consideration of a post on my shopping experience. Pretty Connected was under no obligation to write this review.