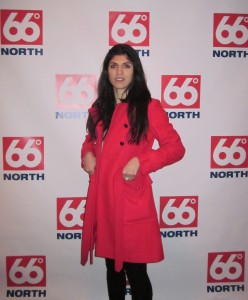 66 Degrees North, the brand that has been keeping Icelanders warm since 1926 unveiled it's Winter 2011 Collection last week at the Scandinavia House Volvo Hall.
Creating an Icelandic experience –between the setting of the venue and serving REYKA Vodka with traditional Icelandic hors d'oeuvres (even the room was on the chillier side), their models walked the runway wearing select pieces from the 66 Degrees North Winter 2011 Men's and Women's collection.
True to their roots, 66 Degrees North is a response to Iceland's challenging weather conditions (they can experience four seasons in one day!). The winter collection features a range of warm insulated and stylish protective clothing, comprised of a variety of down and nylon jackets, warm wool sweaters and accessories with accents of faux fur linings.
"We don't let bad weather stop us from experiencing life!" – Halldor G Eyjolfsson, CEO 66 North.
I wish I could say the same! These recent storms in NY make me want to curl up by the imaginary fireplace (I wish I had) and never leave home. Although many pieces from this collection would have me singing another tune.
After flipping through the Look Book, I'm adding Vik Women's Hooded Sweater ($168) in Red to my wish list! I love it!
The 66 Degrees North Winter 2011 collection is now available on http://www.66north.com/