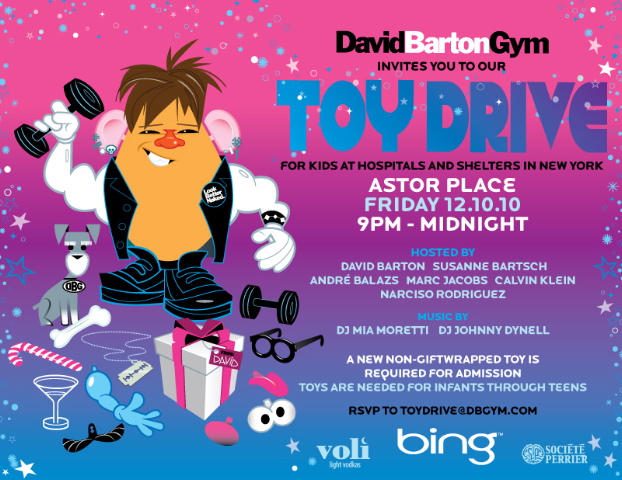 When I first considered starting this site, I almost named it 'VanityandCharity.com'. Mainly because that sums up two of my passions, writing about beautiful products that excite me and make us look good, but also charitable efforts and causes. I have always valued the importance of giving back and very often the two worlds collide to bring an explosion of good.
DavidBartonGym seems to share my fervor. They have spent the past decade committed to making a difference in the lives of children. This Friday, DavidBartonGym is hosting their 10th annual Toy Drive with the hopes of collecting their 200,000th toy for children in need this holiday season and you're invited!
If you're familiar with DavidBaronGym, you know they have a very cutting edge approach to fitness centered around the promise of making you "Look Better Naked" and their facilities are some of the most creative, unique, fun, fitness centers in the Country. Each of their locations (they have clubs in New York, Chicago, Miami and Seattle) is an original. No two are alike –they are designed to reflect their community's culture and flavor.
So NEW YORK CITY, grab a gift and join me this Friday in supporting them in their efforts.
WHEN: Friday, December 10, 2010. From 9:00PM – 12:00AM
WHO: Hosted by DavidBartonGym founder David Barton, nightlife promoter Susanne Bartsch, iconic fashion designers Marc Jacobs, Calvin Klein and Narciso Rodriguez, and renowned hotelier Andrew Balazs. Music by D.J. Mia Moretti.
ENTRY: A new unwrapped toy is required to gain entry, all of which will be donated the following day to St. Vincent's Medical Center, Mount Sinai Hospital Pediatric HIV Program, New York Presbyterian Pediatric Studies, the Family Care Center at Harlem Hospital and other children's organizations. Toys are needed for infants through teens.
RSVP to [email protected]
Here's to giving back and looking great naked this holiday season. Cheers!