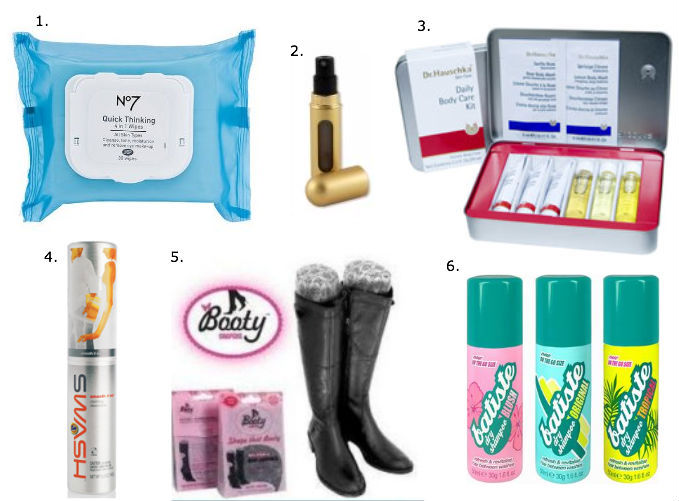 1. Boots No7 Quick Thinking 4-in-1 Wipes ($6.99/pack of 30 wipes) – If you don't have access to your beauty regiment, these wipes are the next best thing. They cleanse, tone, moisturize, and remove eye make-up! So whether you're at the gym, on a plane or just feeling too lazy to make it to the bathroom to take off your makeup, these wipes are great to have on hand.
2. Scent Genie ($11/4mL) – Turn any of your fragrances into travel size. The Scent Genie, refills in seconds and holds 50 sprays. Lightweight and leak proof, it's the perfect addition to any makeup case.
3. Dr. Hauschka Daily Body Care Kit ($22.95) – Just because you're traveling, that's no excuse to neglect your skin. Packaged in a convenient on-the-go tin, the Daily Body Care kit has everything you need to keep your body hydrated. Plus it's a great way to try the Dr. Hauschka's body care range. This set includes: soap-free Lemon Body Wash (0.17 Fl. Oz) and Rose Body Wash (0.17 Fl. Oz); Hand Cream (0.34 Fl. Oz); Lavender Bath (0.34 Fl. Oz);  Quince Body Moisturizer (0.34 Fl. Oz) and Rose Body Moisturizer (0.34 Fl. Oz); Lemon Lemongrass Body Oil (0.34 Fl. Oz) and Rose Body Oil (0.34 Fl. Oz). All sizes are approved for travel.
4. Tide Swash Smooth It Out ($6.99/pack) – This is a great product for anyone who hates to iron or needs a quick fix for getting wrinkles out. Just spray it onto a wrinkle then use your hand to smooth it out and voila! I use it to de-wrinkle my clothes out of my suitcase, and keep one in the office and at home for those emergency situations.
Tide has a full line of convenient Swash products including FRESH IT UP (a quick clothing odor outer spray) and STEAM IT OUT (a pre-moistened dryer activated freshness sheet that removes odors and reduces wrinkles in ten minutes).
5. Booty Shapers Inflatable Boot Supports ($9.99/Pair) – Compact and portable, these reusable boot supporters inflate to hold your boots upright and protect them from premature creasing and bending. Ideal for knee & thigh high boots.
6. Batiste Dry Shampoo (Travel Size 1.6oz/$5.49, Original Size 5.05oz/$7.99 ) – Available in three scents, Blush, Tropical and Original, Batiste dry shampoo is a great solution for greasy hair. It soaks up any excess oils and adds body in between washes. I'm partial to dry shampoo since my hair tends to get greasy in the front (but dry everywhere else) within the first day of showering. I don't like to wash my hair everyday since it dries out, so I spray some Baptiste as an alternative.
Disclaimer: A complimentary sample of these items were given to Pretty Connected by a company representative.  Pretty Connected was under no obligation to write this review.