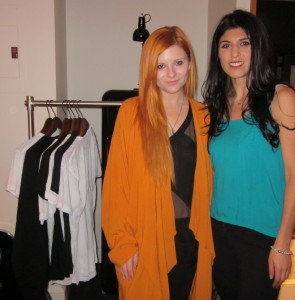 Nestled up at the Ace Hotel, I took some time with cutting edge designer, Jac Vanek to talk about her jewelry and clothing line and latest collection for Bloomindale's.
When did you start your line?
Jac Vanek (JV): I started with my bracelets about 2 years ago when I was still in college. I did it on the side until I graduated last May and was able to do everything full force. So it's been a serious business for about a year and half and I've been able to expand into necklaces, rings, and shirts.
How did you get started?
JV: It was actually my mom's idea (I know that's really embarrassing to admit). I sourced a manufacturer in China to make my bracelets. I had $200 to put into the launch, and had to just hope that they actually would send me the products I ordered since I randomly found them online. I got 20 bracelets, gave them to some friends and the rest is history.
What was written on your first bracelets?
JV: 'Ruthless'. The bracelet is still available. It's named after the song 'Ruthless' from one of my favorite bands, 'Something Corporate'.
Tell me about the quotes and sayings on your shirts.
JV: I incorporate a lot of different things into my collection, some of it has a party and have fun sort of vibe, and then I have a lot of products with different literary or pop culture references on them. I've used quotes from anything from Jack Kerouac's book, On the Road to the film, Breakfast at Tiffany's. It's a mix of everything that encompasses my personality.
You recently launched in Bloomingdale's. That's so exciting!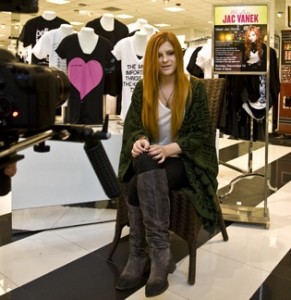 JV: So exciting… I launched with Bloomingdale's last month and just wrapped up 3-days of in-store appearance at their Roosevelt Field Mall, Short Hills Mall and White Plains locations. I did a special order of exclusive t-shirts for them. They have variations of my existing shirts in different colors and styles.
What's next for you?

JV: I have so much in the works this summer. In February we're going to Australia for the music festival, Sound Wave. Otherwise, I'm working on my summer line — It's going to consist of a lot more v-necks and girly, flowy shirts and everything is going to be custom cut.
Well Jac Vanek, I think you rock! It's very inspiring to see a young designers getting her name out there and developing a brand so organically, but with a lot of heart and ambition to succeed. Best of luck to you, this really is 'only the beginning'.
Learn more about the collection at JacVanek.com