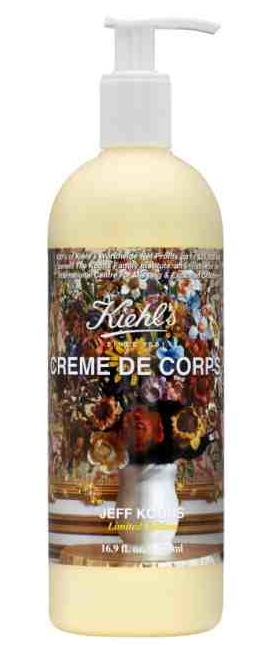 In October I posted about Kiehl's creating a limited edition Crème de Corps collection featuring the artwork of contemporary artist, Jeff Koons.
Yesterday, Kiehl's announced that for ONE DAY ONLY, this Saturday (December 4th), they will be releasing an extremely Limited Edition Second Label creation of their bestseller, Creme de Corps (16.9oz, $45). Available at select NY/California Kiehl's retail store locations, this label features an image of Jeff Koon's 'Large Vase of Flower' installed in the Queen's bedchamber at Versailles.
Kiehl's is donating 100% of the net profits of up to $25,000 to The Koons Family Institute, an initiative of the International Centre for Missing & Exploited Children (ICMEC).
Kiehl's FACEBOOK fans have the opportunity to call any of the stores listed above and be put on a waiting list to be the first to receive a bottle on Saturday.  Fans who  live in the US, but not near any of these Kiehl's locations are in luck! Once ordered, you can either pick us your reserved bottle in store or having it shipped directly to your home.
Here's a list of the participating locations:
Kiehl's Since 1851 New York Flagship Store, 109 Third Avenue, NYC, 212-677-3171
Kiehl's Since 1851, 154 Columbus Avenue, NYC, 212-799-3438
Kiehl's Since 1851, 1516 Montana Ave., Santa Monica, 310-255-0055
Kiehl's Since 1851, The Grove-189 The Grove Drive, Los Angeles, 323-965-0569
Kiehl's Since 1851, Robertson-100 N. Robertson Blvd., Los Angeles, 310-860-0028
Kiehl's Since 1851, 2360 Fillmore St., San Francisco, 415-359-9260
Kiehl's Since 1851, San Francisco Centre, 865 Market St., San Francisco, 415-644-0112
If you miss this, the original Limed Edition Koons/Kiehl's Label from his TULIPS artwork is still available through the holidays.