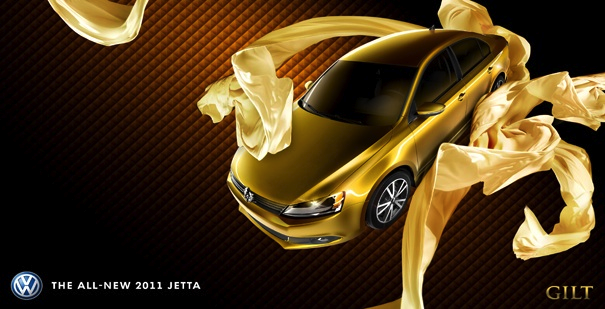 By now I assume all of you have heard of (and many of you are members) of the online sample sale website, Gilt Groupe. And if not, you should, they sell just about everything, and I mean everything –fashion, accessories, jewelry, travel, events and lifestyle sales on luxury merchandise and experiences at up to 70%.
Having recently partnered with Volkswagen, they can now add cars to their list of categories. Tomorrow beginning at noon ET, Gilt will be selling three all-new 2011 Volkswagen for $5,995!! Originally priced at $15,995, they are dropping the "1" from the price, knocking out $10k. Additionally one third of the proceeds of the sale (nearly $18,000) will be donated to the charity Dress for Success. This sale will occur for three consecutive days, so if you miss out tomorrow, try again.
If you're not shopping for a car, they will also be hosting a stocking stuffers sale tomorrow, so be sure to check that out. And if you have any questions, Gilt's founder Alexandra Wilkis Wilson is available tomorrow at 3:30pm.  She will be live chatting from Facebook about any questions you may have about the holiday season and gifts.
For more information and to becoming a member of Gilt Groupe (it's free), visit www.gilt.com/vw