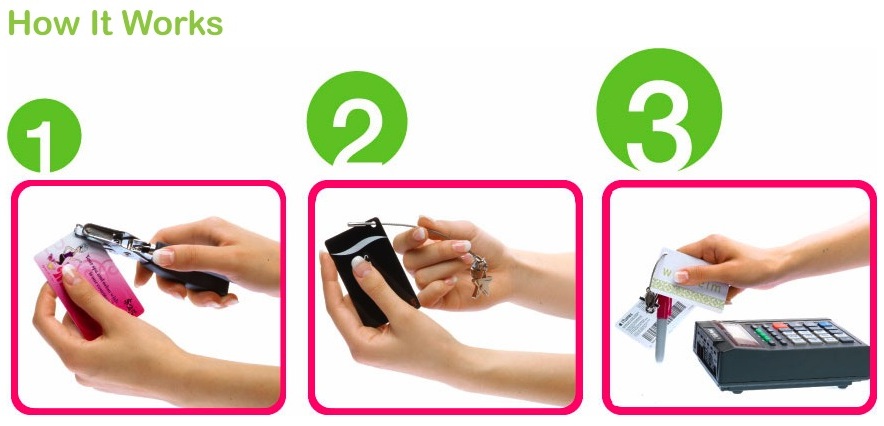 I don't know about you but I have a lot of junk in my wallet between business cards, credit cards, ID, gift cards and receipts. Plus why does every company have it's own reward card? Can't there be some paperless system in place already, like using a phone numbers?
I actually get so frustrated with how heavy and bulky my wallet gets that often I'll take out my license, bank card, $40 and throw them in my makeup case and call it a night (literally – that's about all the room my clutches can handle).  Then again it's no wonder I'm always losing my license, this isn't exactly the most organized solution. However, the Card Cache is. It's a stylish keychain for your cards. Simply hole punch the corners of your promotional cards and string you're Card Cache through it. Clutter relieved, cards organized, problem solved.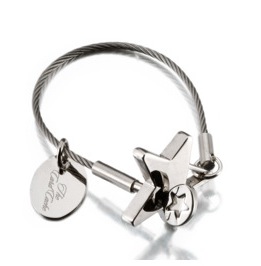 The Card Cache ($13), comes in a variety of styles including Heart, Diamond, Flower and my personal favorite, Star. They also offer a line of supplemental accessories (calendar cards, markers, charms) for purchase.
Incidentally, I don't recommend getting overly zealous with the cards by adding keys, not screwing the clasp tight enough and going on a Vespa ride on a windy day.  You never know, but chances are it will come undone and somewhere over the Polaski Bridge you're cards will be set free. The curse of my disorganization lives on!
Actually not, I fully intend on getting another (although with my luck maybe should consider purchasing in bulk).
For more information visit www.thecardcache.com
Disclaimer: A complimentary sample of The Card Cache was given to Pretty Connected by a company representative.  Pretty Connected was under no obligation to write this review.