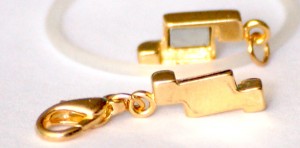 Having recently gone through a breakup and all the joys of basically living with someone for the past 3 years, you realize it's the little things you miss the most. For instance, having someone help put on your jewelry. It may sound silly, but I completely took that comfort for granted. While I'm pretty solid with putting on my own necklaces (unless they are really tight), I have a lot of difficulty with bracelets.
Recently, I discovered Hercules Magnetic Jewelry Clasp. It's actually really cool, it clasps to any regular lobster clasp at either end transforming your clasp into a magnetic one; making it very easy to open and close. I know that sounds scary, but it closes vertically (which is the secret to why it won't tug apart) and holds up to 20 pounds so your jewelry is safe. I've actually been trying it out this month on a variety of my jewelry and I'm pleased to report all of them are in tact. And if you have sensitive skin to medals, not to worry, it's lead safe and plated nickel so it's irritation free.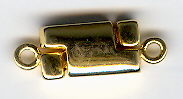 So for anyone who has difficulty putting on their own jewelry, I recommend testing this out. The other use I found it helpful for is any jewelry that's too tight.  The clasp adds over an inch in length to your existing jewelry so if you're looking to make anything longer it's a great solution. On that same note, it can make some items too big; for instance I have some bracelets that I can't use it for since it makes them fall off my wrist. To remedy this, you can replace your existing clasp with this one as apposed to just adding it on.
The Hercules Magnetic Jewelry Clasp is $5 and comes in three colors: Gold Electroplate, Silver I/Rhodium Plate, or Sterling Silver Plate. For more information visit www.luc-co.com
Disclaimer: A complimentary sample of the Hercules Magnetic Jewelry Clasp was given to Pretty Connected by a company representative.  Pretty Connected was under no obligation to write this review.