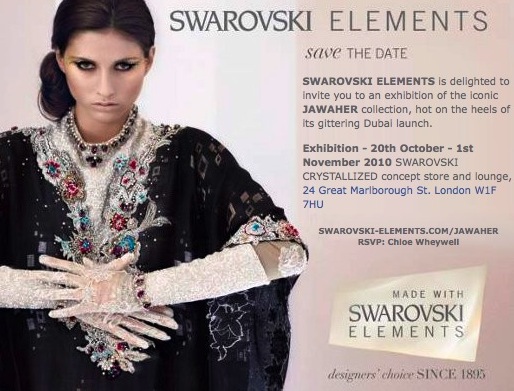 Jawaher is a new initiative from SWAROVSKI ELEMENTS, which celebrates the intrinsic elegance and glamour of Arabian women today.
Featuring fashion pieces created by world-renowned designers including Allessanra Rich, Sohad Acouri, Zaid Anton and more; Jawaher reflects modern-day clothing fit for special occasions and women with glamorous lifestyles (while still maintaining Middle Eastern tradition).
The featured designers used crystal as a creative material to show a light fueled allure. To view and learn more about the exquisite collection visit their Facebook page HERE
If you're in London from October 20th – November 1st, the Jawaher collection will be on public display in London at the SWAROVSKI CRYSTALLIZED lounge located 24 Great Marlborough Street.