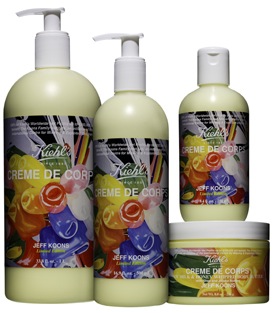 Kiehl's Since 1851 and contemporary artist,  Jeff Koons are at again, this time partnering to introduce the Limited Edition Creme de Corps Holiday Collection. The assortment includes Kiehl's bestseller Crème de Corps (in 3 sizes, $70/1 liter, $45/16.9oz and $27/8.4oz) and their newest formulation, Creme de Corps Soy Milk & Honey Whipped Body Butter ($35/8 fl. Oz jar), featuring Koon's artwork of TULIPS (1995-98 Oil on Canvas) on the label. Now available, Kiehl's is donating 100% of the worldwide net profits of up to $200,000 to The Koons Family Institute, an initiative of the International Centre for Missing & Exploited Children (ICMEC).
It's almost too pretty to use… almost.
For more information visit Kiehls.com
Disclaimer: A sample of this collection was not provided to Pretty Connected. Pretty Connected (or Lara) was under no obligation to write this review, although Lara does consult independently and without any affiliation of Pretty Connected for Kiehl's (or with this collaboration).