Fresh off the plane from San Francisco, I had an eventful week in Boston between the Catwalk for a Cure breast cancer awareness event and Natural Products Expo East trade show featuring keynote speaker Alicia Silverstone (I'll post more on both experiences shortly). For now, as a museum and fashion enthusiast I want to talk about two great exhibits currently being showcased at the Museum of Fine Arts in Boston: Avedon Fashion 1944-2000 (on display from Aug 10, 2010 – Jan 17, 2011) and Scaasi: American Couturier (on display from September 25 2010 – Jun 19, 2011).
Photographs by Richard Avedon
Avedon Fashion 1944-2000 – I first saw this exhibit last year, when it was on display at the ICP in NY. It doesn't get old with time. Richard Avendon's work is both iconic as you walk the decades of his peices and breath taking in his muses, the scenery and of course the fashion in his photography.  Don't miss this opportunity to see Dovima with Elephants, amongst so many more classics.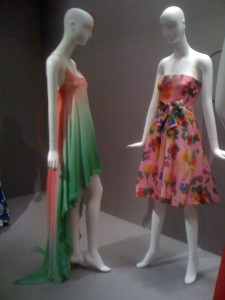 Scassi: American Couturier – I wasn't so familiar with Arnold Scassi's designs when I walked into the exhibit. However, with all of his prestige over so many influential actors, socialites and notables including Arlene Francis, Barbara Streisand, Mary Tyler Moore, Elizabeth Taylor and Laura Bush and clothing on the cover of Vogue and Harper's Bazaar I'm not entirely sure why.  Possibly because he launched his first ready-to-wear line, before my time, in 1956 (although that seems like a poor excuse for an FIT graduate).
By 1958, Scassi had won the Coty American Fashion Critics Award for best designer of the year.  Featured in the MFA collection are iconic dresses worn by Barbara Streisand, Natalie Wood, Joetta Norban and Arlene Francis.
For more information on the Museum of Fine Arts and special exhibits visit http://www.mfa.org