Odd Molly makes me happy. There's something about the mix of knits and silk with bursts of color and femininity that just makes me want to chuck my cell phone in a lake and spend the day out in a field picking daisies. They have this boho-hippy chic way of mixing a bunch of otherwise statement pieces together that flows whether the items are worn together or separately. And with braids (and ribbon) in their hair to models strutted down the runway at Lincoln Center to a live performance by Sean Lennon and Charlotte Kemp Muhl (I die, especially since my last encounter with Sean involved him spilling his drink on me—I was honored).
GET THE LOOK:
Makeup look created by Sil Brunisma for Tarte Cosmetics (click image to enlarge).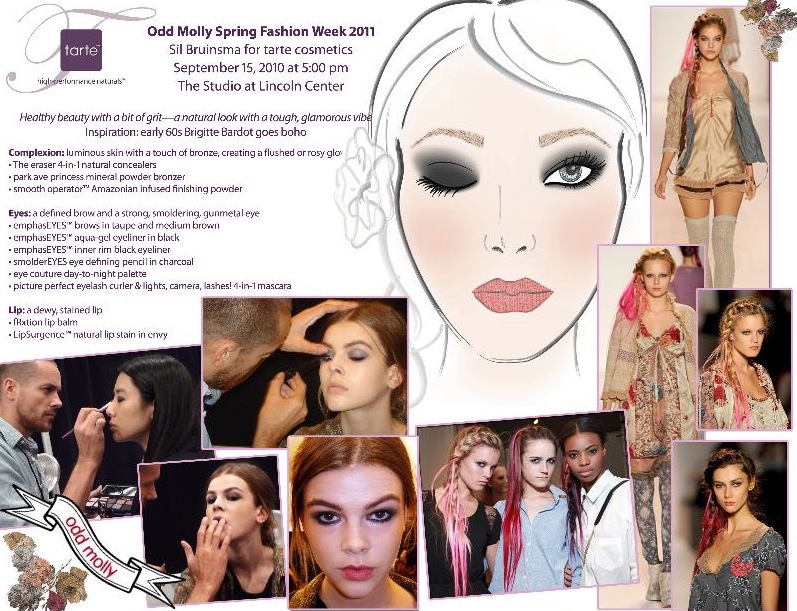 In celebration of the show Tarte is offering 30% off all the items used backstage for the look! To redeem, visit tartecosmetics.com and enter code: FWSEPT at checkout. Offer is valid until 9/30/10. Click HERE to view all the products this includes.
Not to deviate from the clothes or makeup, but I have to give a special shout out to one of the gift bag items, Bridgewater Candle Company in Bouquet of Roses ($13). I've been obsessing over this brand for months. Not only do their candles smell wonderful, but for every jar sold Bridgewater makes a donation to Rice Bowls to help feed a child for a day. It was very exciting to receive another to add to my collection.