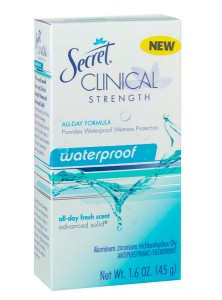 For anyone who was in NYC for the 4th of July, as far as the climate goes, you know it was pretty miserable. To Brooklyn's disappointment the fireworks we're held over the Hudson River instead of the traditional East River location (congratulations Jersey). Mixed in with 90+ degree weather, a blazing sun, no breeze and I think I've made my point. However, while I felt like a pile of sweat, my deodorant did not quit on me. Secret Clinical Strength Waterproof Advanced Solid deodorant ($.9.99) survived the heat, subway, and kiddie pool while offering a subtle flowery-powdered scent and formula that managed to keep me dry and sweat free.
The creamy formulation is both hypoallergenic and waterproof with 12+hour long lasting protection.  It absorbs easily into skin without leaving behind any white marks or stains and contains skin-soothing conditioners such as dimethicane and petrolatum for an extra level of comfort and smoothness that helps prevent irritation.
For more information visit www.secret.com
Affiliation: This set was given to Pretty Connected by a company representative.  Pretty Connected was under no obligation to write this review.