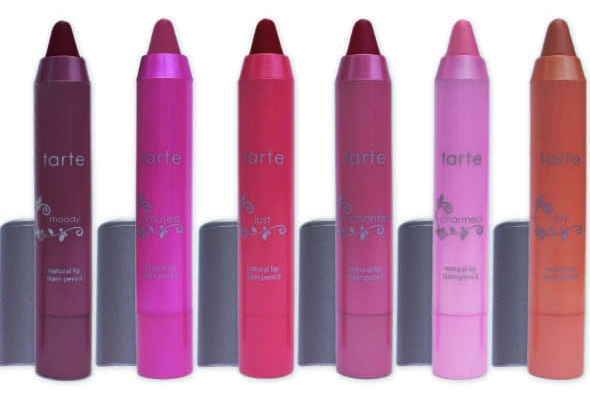 I was flipping through last months Sephora catalog when I came across Tarte's new Natural Lip Stain with LipSurgence Technology pencil, and immediately went out and bought it.  If it was anything like their award winning, iconic cheek stains I needed this in my collection.  Apparently I wasn't the only one since half the colors were sold out at my favorite Sephora located on 5th Avenue.  No matter, the nice thing about Sephora in New York, you can trip and stumble across another. I ventured to an alternate location only to find my first choices (Charmed, Lust and Moody) we're yet again sold out.  To their defense, I recognize that most of us die-hard Tarte fans have been waiting for this product for a long time so it was somewhat to be expected.
I gave up (I'll be back for those colors), and took what I could get. I'm a firm believer in trying new things and with spring here I was willing to experiment with a bright pink; I purchased Amused.  I went home to try my latest discovery and all I can say is WOW! Being used to 'conventional' lip stains, this was not what I was expecting.
I have a confession; while I do appreciate lipsticks and lipgloss my real passion is for lip liners and stains.  My only issue with both is generally they dry out my lips.  However, if you handed me a lip product, had me close my eyes and asked what I was putting on, I would have guessed mint chapstick. Upon application it's very hydrating and the peppermint infused fragrance is such a nice (and relaxing) surprise.  Unlike most stains, it's not matte, there's a nice sheen that also comes through that's completely non-sticky.  However, it may fade within a few hours, especially if you're eating or drinking (along with that chapstick feel), but the color prevails.
I'm generally not a pink person but this was the perfect shade fore me; at carried a bright enough tint to bring out my complexion without being too overpowering or making it look like I was trying to make a statement.  Plus you can adjust the shade based on how many strokes you apply. All I know is it's going to really look exquisite on once I'm tan!
So Tarte fans, it's here and it was worth the wait!
Price: $24. Exclusive to Sephora, for more information visit Sephora.com