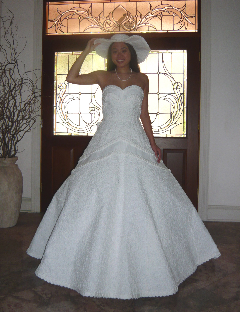 Ready, set, roll! It's time for the Sixth Annual Toilet Paper Wedding Dress Contest! From now until May 15th all you visionaries and creative types have the opportunity to show us what you got (I'm looking at you Earth Day brides). However be warned, you are competing against some talented individuals.  Just look at this picture from last years winner! I'm so impressed.
Here's the deal using only toilet paper in combination with your choice of tape, glue, needle, and thread (or all of the above) create a wedding dress.
To enter, submit some digital photos (front, back and side) to [email protected]. Video clips are welcome as well, but not required.
There's no entry fee. Grand prize winner receives $1,000, 2nd place $500 and 3rd place $250. Contest runs from now until May 15th.  The winner will be announced on June 4th.
For more information and official rules (plus more images from past winners) visit www.cheap-chic-weddings.com