Malandrino Fall 2010 fashion show was inspired by Mongolia and "a vision of earth as seen from above". Words like, nomadic, tribal, strong, warriors were all part of the vision for the collection and influence for the hair and makeup.
HAIR: Lead Stylist Odile Gilbert for PHYTO Professional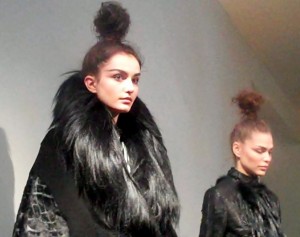 "The inspiration was a bit of Mongolia and a bit of Africa so what we wanted to create for Catherine, was a little tree on top of the head … in a very organic, natural way" said Gilbert.  "It should be fresh but have the touch of a barbarian girl."
Gilbert began by applying 'Intense Volume Mousse' and 'Actif Volumizing Spray' to create a dry, matte texture.  While the hair dried, the stylist aggressively massaged the roots using her hands to add volume. 'Fiber Paste' was then added to create even more texture before hair was swept and bound on the top of the head. Next, Gilbert sprayed 'Workable Holding Spray' to add a strong hold.
MAKEUP: Lead Stylist Tom Pecheux for M.A.C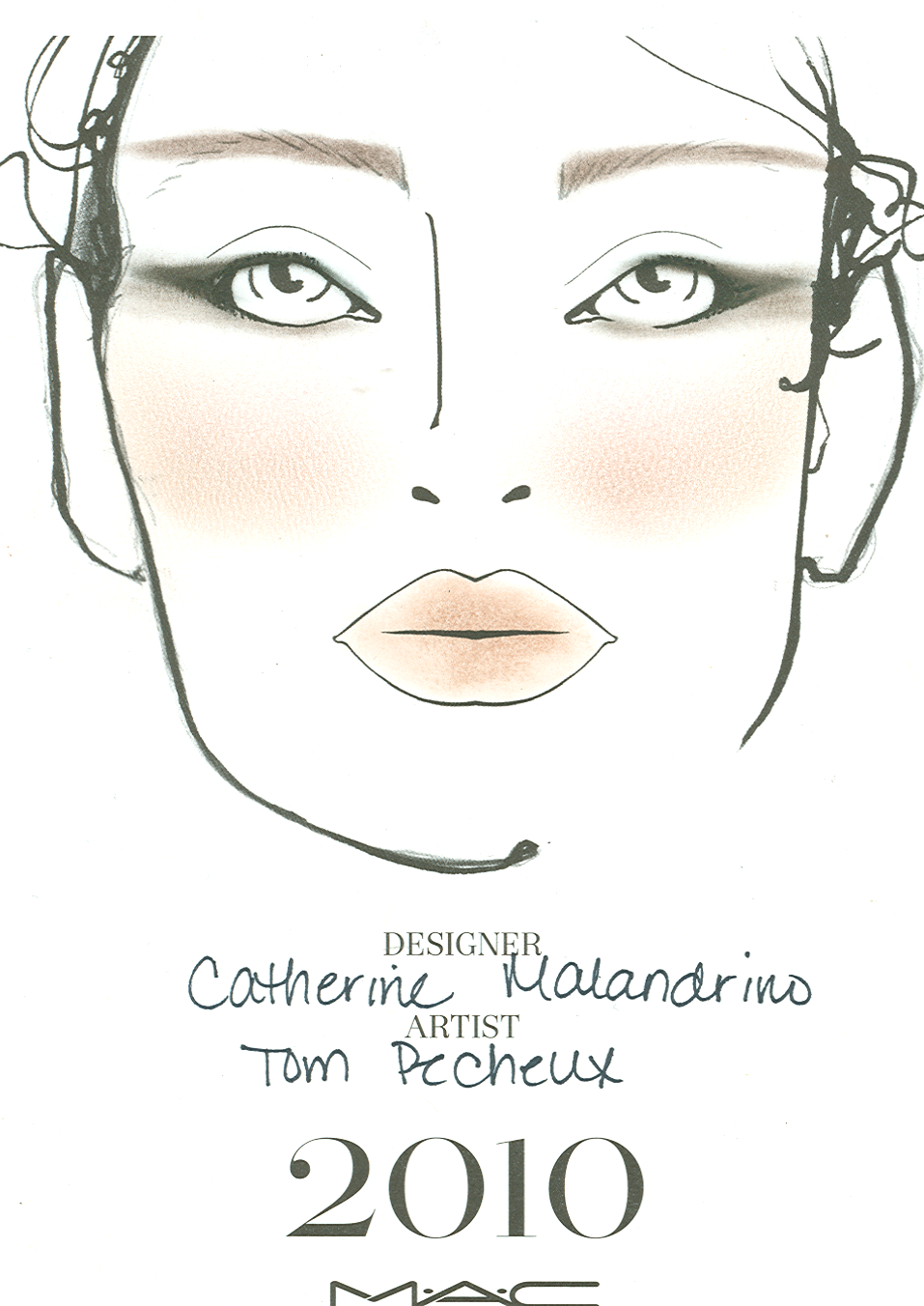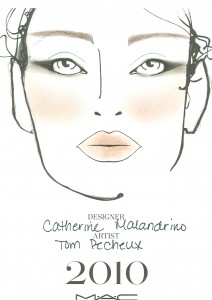 "My inspiration came from Catherine, she got inspired by Mongolia, and the beauty of the women there … so I created a powerful eyebrow, shaped eyes, and high cheeks.  I darkened the eyebrow, but nothing on the upper eyelid, and no mascara.  Everything is happening in the bottom with the bronze color and black eye pencil." –Tom Pecheux
To achieve the look, Pecheux applied M.A.C eyeshadow in Tarnished Bronze to the lower eyelid, with Eye Kohl Pencil in Smolder to elongate eyes. For a powerful brow, Carcoal Brown eyeshadow was applied.  For an even complexion and fresh face, M.A.C Face and Body Foundation, Prep + Prime Transparent Finishing Powder, and Blot Loose Powder was applied to the face followed by M.A.C Contour Bronzer Powder to accentuate the cheekbone. Pecheux then applied M.A.C Lipstick in Folio on the model's lips to complete the look.
NAILS: Lead Stylist Angi Wingle for CND Nail Polish
To compliment the collection, Angi Wingle created a bark hued manicure textured to look like leather using CND Nail Polish in Dark Ruby, layered with Copper Shimmer and topped with Super Matte.