Post by Anny Deirmenjian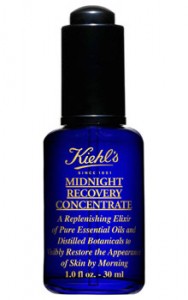 Although suitable for all skin types (and ages), for someone with extremely sensitive skin, I found the Midnight Recovery Concentrate by Kiehl's to be a miracle product. Considering my skin is prone to break outs, which can be caused by anything from change of season, water temperature to switching moisturizers, I was apprehensive but decided to give it a try anyway.
After cleansing, I applied 2 drops (2-3 drops is the recommended dosage) of the concentrate to my face and noticed it immediately absorbed effortlessly into skin (make sure to evenly distribute the formula, and pat into skin, do not rub). The next morning, my skin felt tighter, softer, and more hydrated; my pores appeared smaller and the best part – no breakouts! Not only is the scent of lavender and geranium wonderful and relaxing, this nourishing, paraben-free elixir consists of a complete blend of botanical oils (lipids) and natural essential oils (those important Omegas).  They help improve the skin – rejuvenating and hydrating while you dream away!
After a week with the Midnight Recovery Concentrate, my skin is glowing, the lines around my forehead are smoother, and my foundation absorbs better into skin.  Sleeping never looked (or felt) so good!
For more information visit Kiehls.com
Affiliation: This product was given to Pretty Connected by a company representative.  Pretty Connected was under no obligation to write this review.