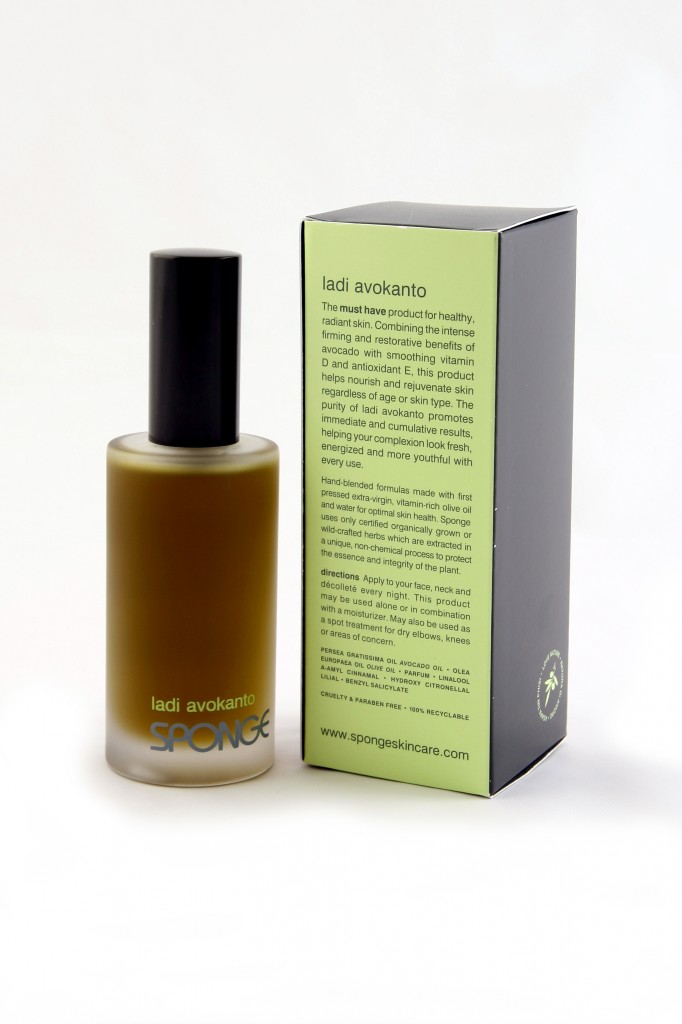 I should start by saying that I'm on an oil kick, and my latest find is SPONGE's Ladi Avokanto (Avocado Oil).  I know many of you are afraid of oils and are concerned it will you clog pores or cause you to break out.  I get it, I've been there, but that's simply not the case.  It's true, not all oils are created equally.  There are a lot of different oils out on the market; each with different consistencies and some are better then others.  But at the end of the day there's a reason why people with oily skin tend to get less wrinkles then those with dryer skin.  And that's where Ladi Avokanto comes in.
Rich in olive oil, avocados, vitamin E and vitamin D, Ladi Avokanto is an anti-aging serum that helps nourish and rejuvenate skin to promote a fresh, even complexion. Suitable for all skin types and ages (although I strongly recommend it for dry skin), I have been using this product every night exclusively (although it can be used with a moisturizer as well), and I wake up to radiant, moisturized, healthy skin.
While in Hawaii, this product single-handedly prevented me from peeling after I got a little too much sun. And while I don't believe any one product can erase my lines, I do think keeping areas that tend to wrinkle (forehead, sides of lips, just below the temples) hydrated, can serve as an amazing preventative.
So take the plunge, do some research, try the oil, and get over your complex (if you even have one). It absorbs quickly and I think it feels amazing, however I will warn you that it is a very thick, rich oil.  Imagine what a half tablespoon of olive oil would feel like.  When I first received the bottle, I went to spray the oil on my face thinking it would mist on.  I was wrong.  Do not let the spray cap fool you, it acts like a pump, and should be deposited onto your hand and then be applied to your face and neck.  Although it is a little pricey, it goes a long way; a half a pump was more then adequate for my entire face and neck.
Ladi Avokanto can also be used on dry spots on elbows and knees for some added hydration as well as in hair to nourish dry ends.
Price: $100/50 ml
For more information visit Barneys New York
Affiliation: This product was given to me by a company representative.  I was under no obligation to write this review.