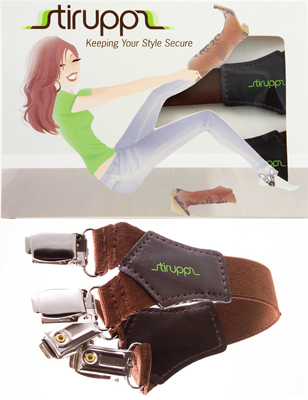 If you have trouble creating that perfect jeans-tucked-into-pants-without-any-wrinkles-or-knee-bunching look, then you need Stiruppz. Stiruppz are designed to keep your jeans in place comfortably, without damaging your clothes. They remind me of those mitten clips I used to wear as a kid, but Stiruppz are a lot chicer, and have an equestrian vibe.
How it works: Just fold your jeans up, strap the elastic around your socks, and clip the edges to your cuff. Create enough tension with the elastic so that your pants won't budge and you're good to go.
One size fits all. $25.
For more information visit stiruppz.com
Affiliation: This product was given to me by a company representative. I was under no obligation to write this review.