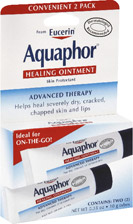 I'm often amazed at the sheer number of beauty products I have amassed over the years.  Everything from multi-purpose face masques to multi-fragranced foot lotion is stored away (no easy feat in my small Manhattan apartment) for the day I decide to truly pamper myself.  But despite my arsenal of expensive and fancy products one thing I cannot live without is the inexpensive, no-frills, classic miracle worker that is Aquaphor Healing Ointment.  This award-winning, clinically proven formula works like a charm on my dry, cracked, winter-in-New-York lips and rough, dehydrated cuticles and elbows.  This stuff is seriously amazing.  Not only is it extremely effective but it feels luxurious, works quickly, lasts for hours and gives your lips a nice glossy sheen without any funny taste or stickiness.   I buy the small on-the-go tubes and stow one in every handbag
Price: $5.79 for 2-.35oz tubes (also available in additional sizes).  Visit CVS.com for more information.
By Melissa Udoff
Affiliation: This product was not given to me by a company representative.