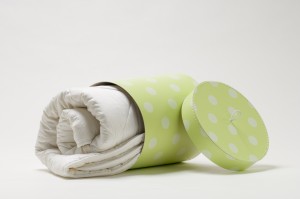 WÜL luxury bedding is made from a unique blend of wool fibers that help maintain even body temperature making them the natural alternative to down or synthetic bedding. WÜL products are machine-washable, dry-able, and hypo-allergenic so babies are free from allergies caused by down comforters and from off-gassing of petrol-based products.  My First Wülly, the baby/toddler version of the classic Wülly comforter also comes with a 5 year guarantee.
Features:

100% pure wool / 300 gsm
100% white cotton sateen sheath with 233-thread count
Elegant and practical crown pattern stitching
WÜL Fresh conditioning for hypo-allergenic benefits: Antimicrobial and antifungal
Flame resistant and bio-degradable
Suggested Retail Price: $150
*The Polka dot gift box is sold separately,  and is made from 100% post consumer fibers.
For more information visit wulusa.com
Affiliation: This product was not sent to me by a company representative. Excerpts takes from wulusa.com.