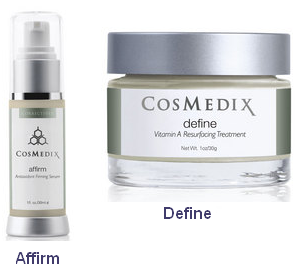 CosMedix is a full range of naturally potent skin care products that are formulated through a process called 'chiral' correction, which filters the ingredients to contain only molecules that positively interact with the skin.  This translates to a corrective skin care line that substitutes preservatives and chemicals for naturally efficacious ingredients — peptides, sirtuins, epidermal growth factors, and physical sunscreens – which ultimately rejuvenates the skin from head to toe.
My skincare regime included — Affirm Antioxidant Firming Serum and Define Vitamin A Resurfacing Treatment.  These products are potent and very effective when used correctly – my skin felt firmer, more supple, and clearly made a difference with fine lines.
Affirm Antioxidant Firming Serum – $78
Affirm is a gentle and soothing day/night serum, with a light, clean fragrance that quickly absorbs into the skin and firms without making it feel tight or greasy.  Immersed with ten skin-specific antioxidants, this lightweight peptide serum can be used for the correction and prevention of photodamage. Suitable for young or mature skin, Affirm can be applied morning or nights individually or under other products to reduce visible signs of environmental stress and sun damage.
Define Vitamin A Resurfacing Treatment – $74
Define is a potent cream made from a unique blend of gentle acids and 2% AGP Complex (a retinal alternative), which encourages cell renewal and collagen enhancement.  Additionally, Define is formulated to exfoliate and resurface skin by stimulating the production of collagen and elastin.  Best used in the evening, this very dynamic blend only requires a pea size amount of product for the entire face.
The strength of the range is very evident within first contact, however it took about a week before I began seeing results.  The price point may seem initially high, however it is balanced by the minimal amount of product needed to see results (and it's too concentrated to use more then the recommended amount of product).
If you're new to CosMedix, they recommends consulting a skin care professional before purchasing (they can connect you with one through their website). They also offer a great selection of skincare and health related articlesVisit CosMedix.com for more information and to purchase.
Affiliation: This product was sent to me by a representative. I was under no obligation to write this review.