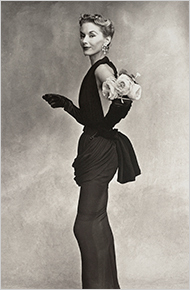 Celebrated photographer Irving Penn died Wednesday at his home in Manhattan at the age of 92.   Considered one of the most influential fashion photographers of the 20th century, Penn's global notoriety began in 1943 when he started working at Vogue.
"In my career, I have met no one else who worked with the level of imaginative intensity and economy of Irving Penn," said Vogue editor-in-chief Anna Wintour. "His photographs were as exquisite and electrifying in the last year of his life as they were in 1943, when he started contributing to Vogue. To have been a colleague and friend of one of the greatest artists of the 20th century is a privilege greater than I could have ever imagined."
Growing up, both Richard Avedon and Irving Penn captured everything I loved about fashion and brought such beauty and elegance to every shot they released.   When I read the headlines of Penn's passing this morning, I could not help but feel very sentimental.  His photographs have deeply moved me and I appreciate them so much.  Rest in peace Irving Penn.
For more on Irving Penn click HERE