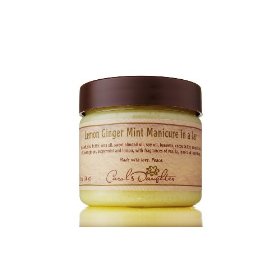 Directions: Rub gently and let the salt exfoliate, while the shea butter moisturizes.  Rinse off the excess salt and dry your hands.  Your hands will feel silky smooth in just a few seconds.
Holy smokes Batman! This product is serious stuff.  I scooped some out from the jar and rubbed the concoction all over my hands.  At first I questioned the 'silky smooth' result, considering how hard the salt was exfoliating my skin.  Then after rinsing the shea butter absorbed into my skin and BAM! My hands were the softest they've ever been.  Finish with a hand cream or just call it a day.
Please note, while the packaging says 'with fragrance of vanilla, musk, and lemon balm,' all I smell is the shea butter.  Sure if you inhale hard enough, you will get hints of the other ingredients. While I'm a fan of the restorative properties of shea butter, I'm not crazy about the smell.  But this product is so impressive; I'm willing to overlook it.  Now if only a hand massage and manicure came along with the product, I'd never step foot in a parlor again.  Until then …
This product does not contain parabens, sulfates or synthetic fragrances and dyes.
For more information click here
Affiliation: This product was not sent to me by a representative.