Estée Lauder announced today that it will close all Prescriptives counters globally by January 31, 2010.  While supplies last, they will continue to sell products through their website.  So stock up NOW or risk forever holding your peace.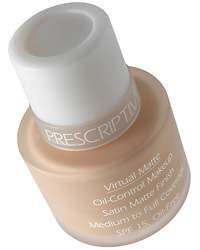 Prescriptives was once ranked among the top five brands in American department stores; but today is not that day, and I will admit, I'm part of the problem!  Years ago (ahem, many), I used to be one of their loyal foundation and moisturizer customers, but then one day, I just stopped.  I'm not sure why, I suppose I started trying different brands and falling in love with new products. Brand loyalty is so hard to find these days.

That doesn't change the fact that before Prescriptives, I didn't know warm tones from cool ones, let alone what my undertone was (yellow by the way). My mother bought me my first Prescriptives foundation when she couldn't stand the 'orange cake' makeup I used to wear, which didn't match my skin color (we have pictures).  Apparently I was colorblind at 16.  At that time their custom blend products were so revolutionary, and they had that great silver packaging. Okay now I'm just getting sentimental.
Prescriptives, you will be missed!