The Makeup Show officially kicked off this morning (and runs through tomorrow) and spans 2 floors with over 85 beauty brands (including top brands like NARS, Make Up For Ever, OCC Makeup, Inglot, Stila, Smahbox…), 10 keynote speakers, and more then 20 seminars. An event truly dedicated to makeup artists with discounts on products (you otherwise never see), top educational speakers, and the opportunity to meet the creatives and founder behind the brands we love. This is where the leaders of the beauty industry will be and probably one of the most important networking events for anyone trying to break into beauty or has any questions on how to advance or develop their skills and career.
Last night, I joined the incredible the Director of Artistry for The Makeup Show, The Powder Group and On Makeup Magazine and celebrity makeup artist, James Vincent as he gave us bloggers a sneak preview of some of the products debuting at the show. And as you can tell from the goody bag above, there's a lot to be excited about! I wish I had time to test everything out to tell you which booths are a must visit but here are a few of the products that instantly caught my eye…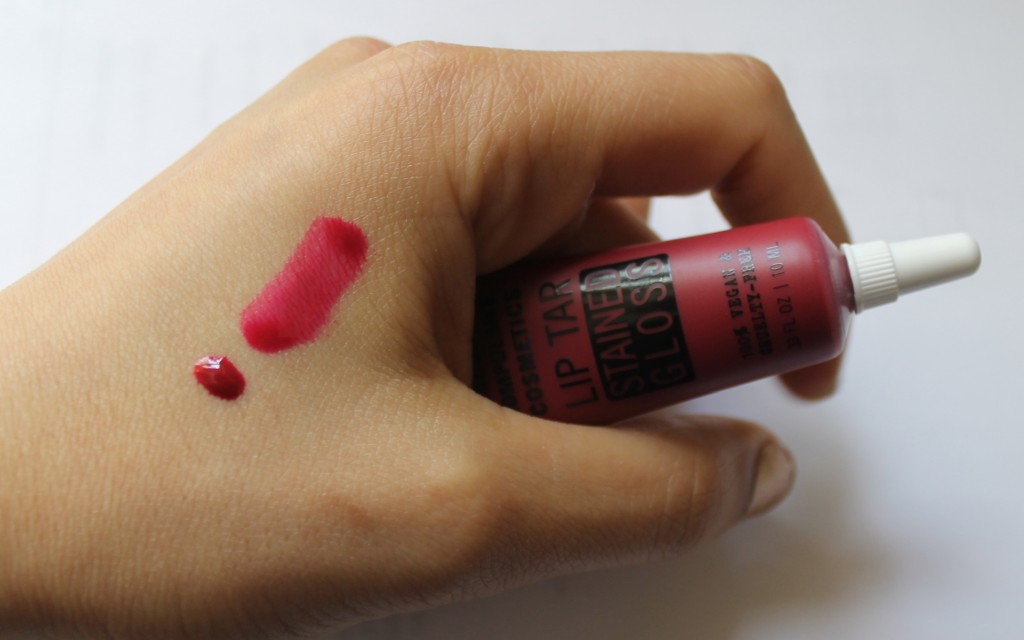 OCC Makeup Lip Tar Staind Gloss – this is the only product I've had a chance to try and I'm IN LOVE. 5 years ago at The Makeup Show, David, OCC's founder launched lip tar which is still one of the most pigmented HD lip products on the market and was one of the first innovators in that category. This season at The Makeup Show he's launching Lip Tar Stained Gloss and it's beautiful. The payoff and color that comes out of that small tube is incredible. And it's so light (which is not something I would say about the original Lip Tar). It has great shine and is considerably softer shade then you see in the tube. I have shade Rhythm Box, which I thought would be a dark wine color but instead is more of a soft, bright raspberry shade. It's so pretty!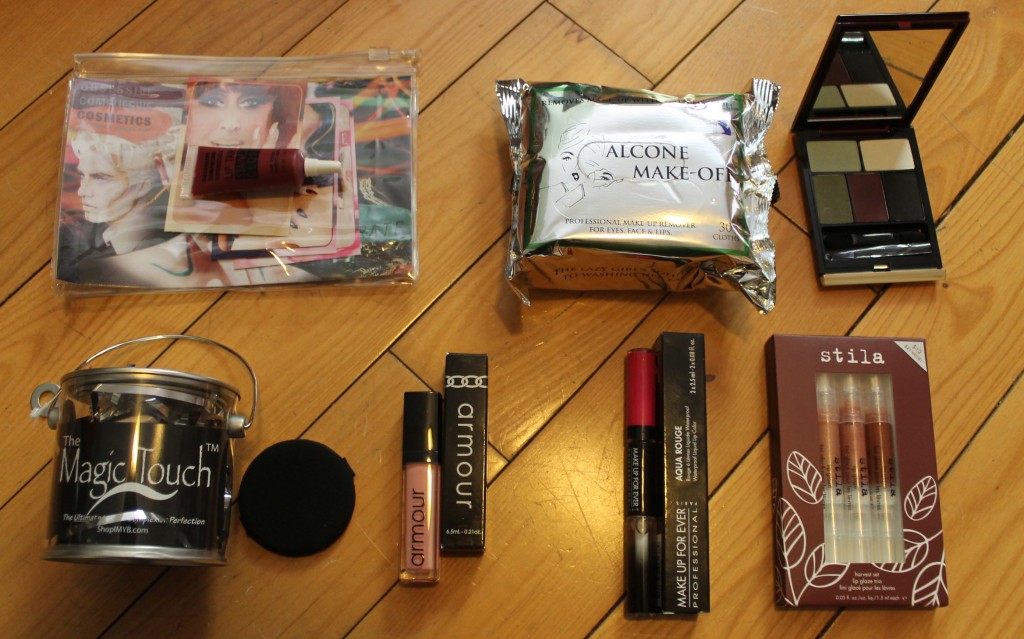 The others that stood out were ALCONE MAKE-OFF professional make-up remover for eyes, face and lips. James went on about these remover pads and how it not only gets off everything (waterproof products and all) but doesn't leave a film on your face. This makes it a lot easier for makeup artists that want to use it for touch ups possible since they have the ability to apply product over it without hassle.
Kevin Aucoin has a new eye palette, The Essential Eye Shadow Set that has a mix of black, olive and maroon (which are now acceptable for spring) mixed with a dusted blue and white.
The Magic Touch I'm extremely excited to try. It's a new kind of makeup sponge that sqweegees your makeup on for a flawless application. It makes less product go further and last longer. The part about it hiding your pores and giving you perfect skin really spoke to me. If this can enhance everything from my foundation to bronzer application, I'm all in.
Brooklyn based Armour has a new nude pink lip gloss, Divine that's so pretty. They have great glosses with beautiful finishes that don't get messy or stuck in your hair.
MAKE UP FOR EVER Aqua Rouge — which is an existing dual sided stain and gloss that has been a staple in my makeup case since launching. At the show they are debuting their newest shade #16, which is a pretty bright fuchsia.
Stila is always launching fun, inexpensive mini lip glaze sets which are the perfect fit for any makeup case. Plus at $12 for 3 shades ($41 value), it's a great brand for encouraging customers to try new shades and experiment with different colors. The newest trio, Harvest Set has vanilla, orchard and spice shades that range the gamete of bronze, pink and gold with a little sparkle.
So what are you waiting for, head to The Makeup Sho!
The Makeup Show starts Sunday, May 5th 9 – 6pm through Monday May 6th 9am – 5pm a the Metropolitan Pavilion, 125 West 18th Street, NYC. For a complete list of participating brands, tickets, speakers and events, visit the makeupshow.com