Are you having Valentine's Day issues? Don't know what to wear on your blind date? Chronic attracting-the-wrong-man syndrome got you down?  Well then you need Rachel.
Inspired by the brave fashionable ladies navigating the trenches of the dating scene, Rachel Roy + Leandra Medine, aka The Man Repeller, have teamed up to created a series of hilarious "how-to" videos to help save the day.
Case #1086 Problem: A Blind Date. You need to look hot, but not too hot. You can still find a diamond in the rough!
Case # 2125 Problem: A Boyfriend Breakup. What should you do for Valentine's? Recover that happy glow!
Case #0014 Problem: Too many men? Tired of guys hitting on you, All. The. Time? Repel them!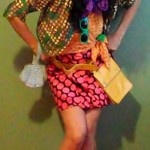 Inspired? Share your favorite man repelling outfit with Rachel Roy on Facebook. I did! My theme was pink socks and pokadots, but the result is more seasonally confused than anything.
And in other exciting The Man Repeller news, Leandra Medine will be hosting the Lucky Magazine blog conference cocktail party, which I'm attending tomorrow night and is going to post the most man-repelling outfit from the event on her site. What do you think? Should I rock this look?