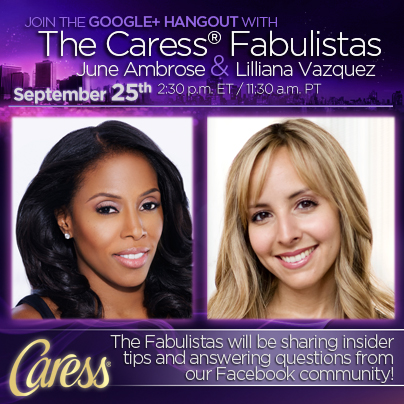 Hi Loves!
Join me and my fellow bloggers from The Style and Beauty Dr., The Fashionista Next Door, Nadine Jolie and Jenny Sue Makeup, as we host our first Google+ Hangout with Caress "Fabulistas" celebrity stylist, June Ambrose and Lilliana Vazquez!
Tune in Tuesday, September 25 from 2:30pm ET /11:30am PT as we interview June and Lilliana and share the latest fabulous finds in fashion & beauty.
To join in simply click the "Join Hangout" button on the Caress Google+ Page: https://plus.google.com/u/0/102945794632081662621/posts
Fans are welcome to join the conversation and send in your questions and comments during the Google+ hangout (be sure to use the hashtag #CaressHangout).
Have a question for June or Lilliana? Share it on Caress' Facebook page at Facebook.com/caress or tweet them @Caress using the hashtag #CaressHangout.
Talk soon!
xxLara