By Heather Wilson, Guest Blogger and Fashion Week Correspondent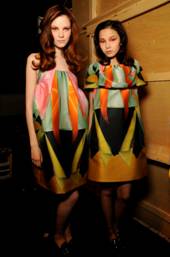 "I kept looking back to a moment with my grandmother in a department store. There was a gumball machine that I wanted, but the only one left was housed in a box that was a bit damaged. The idea of something slightly distressed, but still beautiful intrigued me. The colors are warm – there's a 70s sensibility but in an American sportswear way, " said designer, Giovanna Randall for her inspiration for the Honor Fall 2011 collection.
James Pecis of Bumble and bumble and lead hair stylist for the show was going for a look that was "light, fluffy, with static fly away hair". Using all Bumble and bumble products, he began by using Thickening Spray, to help give the hair body and lift for when he blew out the style. Once the hair was curled, he kept the curl soft, and moveable with the Spray de Mode Hairspray.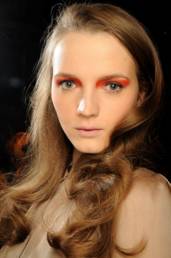 The other two other must have products to always have on hand for a perfectly styled look is Bumble and bumble's Surf Spray and Texture Cream. They give your hair that "second day after washing your hair look, and holdability," said Pecis.
The look for the show was finished off with a makeup look designed by NARS Cosmetics International Lead Makeup Artist James Boehmer. "The look is very punky, sort of like a London 'club kid,' but there's a romantic