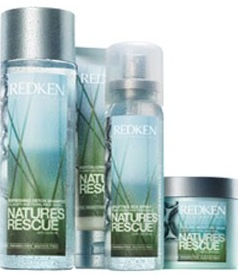 There's a big shift in the industry right now with brands creating more natural formulations due to the increasing concerns over parabens, sulfates and silicone. This month, Redken joins the ranks by launching Nature's Rescue, a new (paraben-free, sulfate-free and silicone-free) haircare collection merging together technological expertise with plant and marine extracts to help remove impurities and buildup while helping to nourish hair.
Last month, I took time with Rodney Cutler, Redken Brand Ambassador and owner of Cutler/Redken Salons for a special preview of the collection. I've had the pleasure of meeting Rodney Cutler on a few occasions and seeing him in action and It's always very humbling to be in his presence. Cutler addressed the growing demand in the marketplace for natural products but at the end of the day "the products have to work, otherwise, what's the point?" So while this line will fill that naturals void in the Redken collection, it's the really the unique blend of this Sea Algae HydraComplex that makes it so unique. It consists of Sea Algae, for it's protective properties, Soy Protein for it's replenishing ones and Aloe Vera for moisture.
The Nature's Rescue collection consists of four products:
Refreshing Detox Shampoo: $16 (6.8oz) – washes away daily stress by helping to eliminate impurities, pollution and buildup.
Refining Sea Polish: $19 (3.4oz) – gentle exfoliant enriched with pumice removes impurities and refines hair's surface leaving it smooth and shiny.
Cooling Deep Conditioner: $17 (4.2oz) – Ultra moisturizing conditioner helps rebalance hair while cooling and soothing the scalp.
Radiant Sea Spray: $17 (3.4oz) – lightweight and multifunctional spray that adds texture.
The other great attribute to the collection is Nature's Rescue is formulated for all hair types, safe for color-treated hair, and can be used daily, weekly or on alternate days from your regular haircare regimen. When I asked the must have from the collection, without hesitation Cutler chose the Refining Seas Polish claiming, "there's nothing else like it on the market! Wait until you try it, and just feel your hair after you rinse it out—it will be so soft".  Needless to say I was intrigued.
I then went on to the Cutler Salon in the Gansevoort Park Hotel to experience the line. My first observation was that the shampoo felt and looked similarly to aloe. It had a slight lather and was easily worked into and absorbed by my hair. Next the Refinish Sea Polish –it literally felt like a gritty exfoliant that felt like sand paper mixed into a moisturizer.  The key to this product is to put a small amount in between your hands, start at the shaft and shimmy your hands down to the root going with the grain of the hair. Do it in sections to really get every part. My stylist then