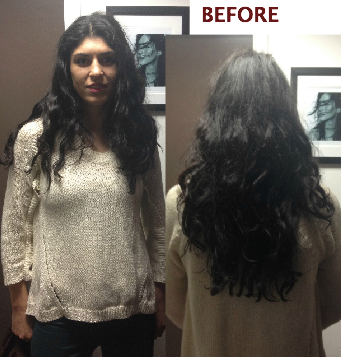 Under any other circumstances, if I was going to have my haircut by someone as experienced and sought after as celebrity stylist and co-owner of his namesake salon, Patrick Melville, I would probably spend half my morning styling it just to feel qualified enough to be in his presence and call myself a beauty blogger.  It goes along the same principle of those who clean their apartment before the cleaning person arrives.
Fortunately thanks to being an Aveeno ambassador, I've had the pleasure of meeting Patrick on a several occasions (he consults on their haircare line). There's something so welcoming and laid back about his personality that I felt completely comfortable (although slightly embarrassed) to refrain from putting my best hair forward, and checked my vanity at the door. In fact, I wanted it to be completely natural — product free — down to the last flyaway and split end so he could assess the best way to cut it, and advice me on how to maintain it.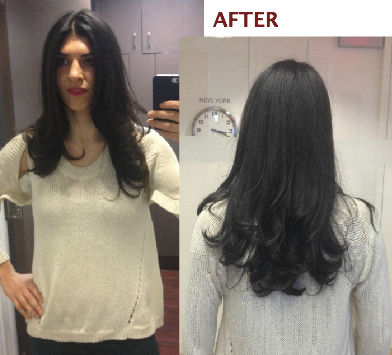 The good news was, Patrick validated that there's no reason for me to stray from my natural black color or abandon my long locks. Alas, I am not meant for short hair. However my dry ends needed to go, and my layers were in desperate need of fixing — I'm still recovering from a bad haircut I received in Portland last year (I knew I shouldn't have trusted a hair salon that serves beer in the waiting room). And despite being capable of remarkable shine when my hair is healthy and happy, it gets desperately dry, especially on the ends and during the winter months.
Patrick used Kerastase Elixir in my hair to help restore some hydration and recommended I add an oil or comparable product to my hair regime. He also insisted I leave a little leave-in conditioner on the tips of my hair for added moisture, and to help keep the ends healthy.
Skimming only a few inches off the length, Patrick Edward Scissorhanded his way into giving my hair more texture and evened out my layers. By the time he was through, my hair was so much healthier and unbelievably soft and shiny!
When I left the salon, I looked like I was walking off the set of a hair commercial; which I was grateful for considering it lasted 3 days and I had a calendar full of press events to attend. Not having to worry about my hair was the biggest time-saver, not to mention I've never received so many compliments on my hair by some of NYC's top bloggers.  Instant ego-boost, vanity in check!
ENTER TO WIN THE GREAT MAKEUNDER: Are you or someone you know, in need of a change?  If so, nominate them (or yourself!) for a chance to win a cut and color ($260 value) from Patrick Melville Salon! Tell the salon in 250 words or less why you or your nominee deserves to win by February 10th, using one of these methods:
The winner must be available during the week of February 13-17th to come in for their cut and color. For more details on this giveaway, visit the Patrick Melville Salon & Spa blog: RinseReadRepeat.com. Good luck!