I'm obsessed with Moleskine, I mean OBSESSED! For as technological as I am, I'm literally lost with out my Moleskine planner — no I do not use iCal on my Mac or iPhone (don't judge me). So imagine my excitement to be working with them and A.I. Friedman for their MOLESKINE WORDS event!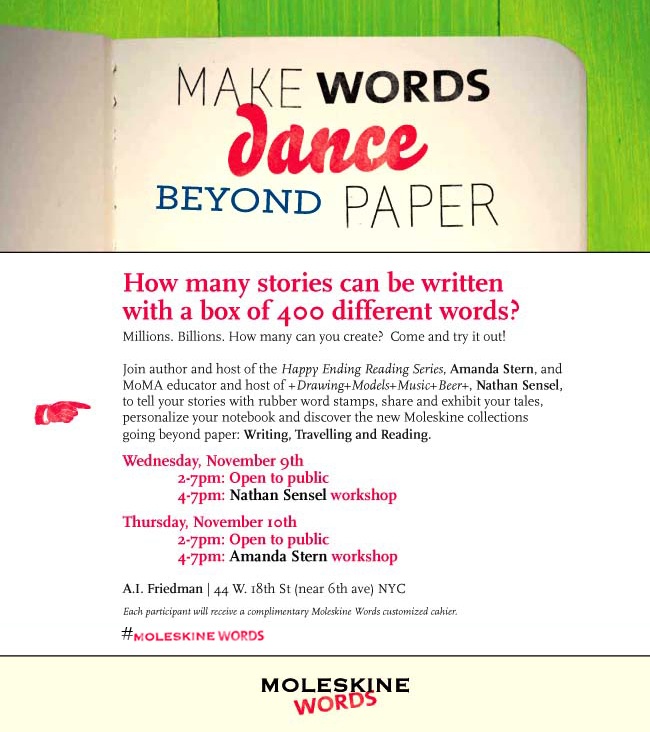 Here's the deal, on November 9th & 10th from 2-7pm at A.I. Friedman's NYC store (44 W. 18th street at 6th ave), Moleskine is giving out their cahier journals to all attendees to decorate with over 400 stamps. So show off your creativity and lets art out! Additionally they are offering 20% off Moleskine products and workshops by teaching artist and host of +Drawing+Models+Music+Beer+, Nathan Sensel and author and host of the Happy Ending Reading Series, Amanda Stern. This event is open to the public.
Help us spread the word for your chance to WIN a $25 Gift Card! We're giving away a $25 gift card to three lucky winners (valid in-store only at their NYC or Port Chester store) who follow A.I. Friedman on twitter @AI_Friedman and tweet:
"Visit @AI_Friedman NYC store 11/9-11/10 for the MOLESKINE WORDS Event (+20% off @Moleskine items) http://ow.ly/7lZ5k #MoleskineWords"
Or any original tweet about the event using their twitter handle @AI_Friedman and the hashtag #MOLESKINEWORDS is also valid.
Here's the Schedule:
Wednesday, November 9th
2-7pm: Open to the public
4-7pm: Workshop with Nathan Sensel
Thursday, November 10th
2-7pm: Open to the public
4-7pm: Workshop with Amanda Stern