I'm seriously digging mark.'s latest jewelry line. While the younger, hipper little sister to Avon may be known for it's makeup collection, it's really the accessories that have been catching my attention this season. It's very Alexis Bittar meets Alex & Chloe glam-rocker (at a fraction of the price) and I'm totally into it.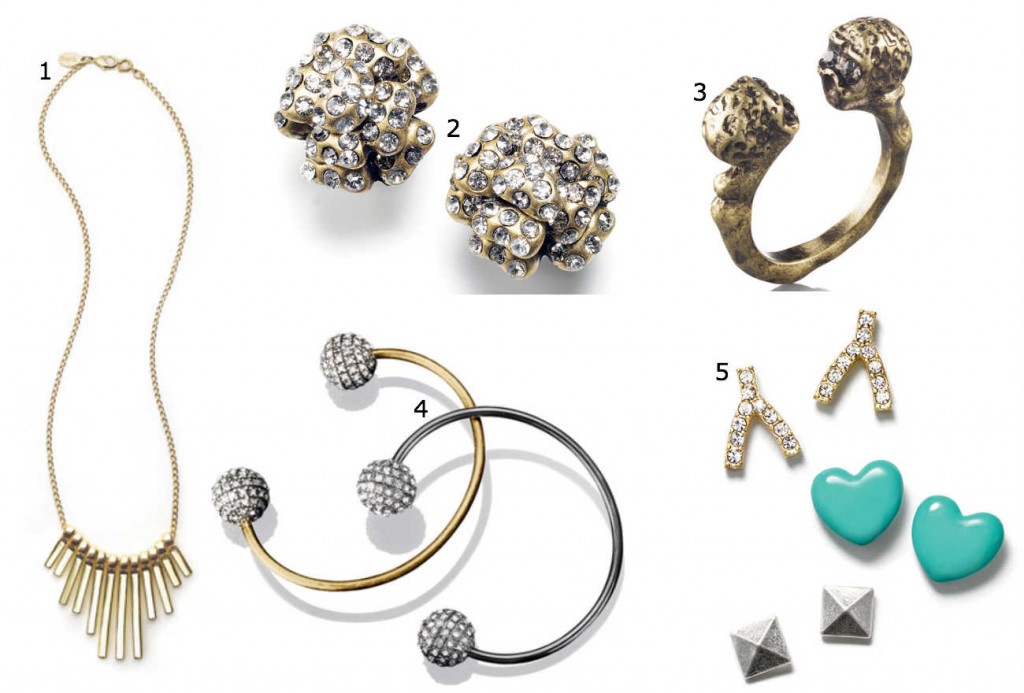 1. mark. Line Up Necklace ($18): It looks super cute on the model featured on mark.'s website and curves perfectly along the signature of her neck.
2. mark. Pick a Posey Earrings ($18): Holy ball of sparkle glam. I love the rustic inconstancy of these earrings. I want!
3. mark. Double Skull Ring ($16): This is my first skull jewelry of any kind and I wear it all the time. It's a great shape and can be layered or worn on it's own.
4. mark. Pave the Way Bracelet Set ($24): Totally cute worn together, although they look great in a sea of mixed bangles.
5. mark. Triple Threat Earring Set ($20): Everyone should own a pair of pyramid studs. You'd be surprise how often they compliment an outfit. I'm not a fan of the wishbones (I think they look a little cheap), and the green heart earrings are cute and nice compliment to a bright, summer outfit. Basically, what I'm saying is this set is worth getting just for the pyramid studs.
Disclosure: Pretty Connected previewed these items at a mark. event and was sent a complimentary sample of the Double Skull ring for post consideration. Pretty Connected was under no obligation to write this post.