Twilight star and mark. Brand Ambassador, Ashley Greene will grace the cover of mark.'s holiday Magalog. In case you're wondering what a Magalog is, it's part magazine, part selling catalog filled with mark.'s beauty products and their fashion line.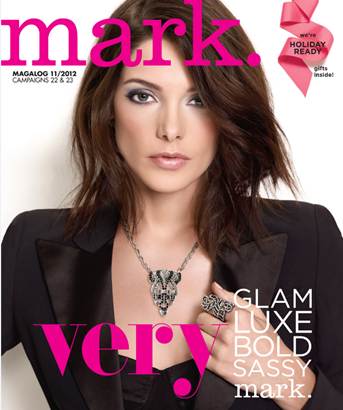 Launching in mid-November, the issue features mark Celebrity Makeup Artist Mai Quynh, as she shares the inside scoop on Ashley's look and explains why photo shoots can be quite the lengthy process. And because we couldn't wait until October for the details on this gorgeous cover look, we had a few questions for the makeup artist.
Pretty Connected (PC): Tell us about the shoot…
Mai Quynh (MQ): We did five or six completely different beauty looks in one day, which means applying and removing looks back to back. Ashley is such a professional; she's very patient and makes a great canvas. We also shot "Very Sassy," mark's new fragrance that launches in October. Ashley is the face of the fragrance, which made the shoot exciting.
PC: What makeup is Ashley wearing?
MQ: On this cover, Ashley is wearing a jewel tone smoky eye, festive shimmer on her cheeks and an iridescent