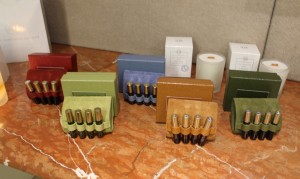 Today, Lisa Hoffman is launching her new line of fragrances including a jewelery collection! Branching off of her 'wear fragrance your way' motto, Lisa Hoffman created 5 base fragrances, Madagascar Orchid, French Clary Sage, Tunisian Neroli, Tuscan Fig and Japanese Agarwood and from there created 4 fragrances under each collection base for morning, daytime, evening and bedtime (and are sold as a set). Additionally, she's created a body care line, candles and what I'm most excited for… fragrance jewelry based off these fragrances.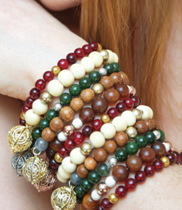 Unlike other brands in this category we're not talking solid perfume rings and necklaces, but charms filled with fragrance beads. Launching with the fragrance bead bracelet (today!), in the coming months we have the earrings and pendant to look forward to (and I can't wait, I need that necklace!).
The benefit of the fragrance beads (made of wood) is you can mix and match based on your scent preference, and they are refillable. Plus their safe for individuals with sensitive skin or allergic to perfume.
The Fragrance Jewelry collection features a proprietary delivery system that slowly releases perfume as they are exposed to air and offers a stylish, whimsical new way to personalize your scent, and look. And they are beautiful! Modeled after a pair of Victorian-era earrings Lisa was given by her husband (ahem, actor Dustin Hoffman), the story goes that during that time it was considered gauche to wear diamonds during the day; so jewelers made pieces with snap-off "fronts" on them, that could cover the jewels until the evening when when they could be removed. This concept inspired both the silhouette and the functionality of the filigreed charm. Plated with antiqued sterling silver and bronze, 14-karat gold and rose gold (depending on the scent held within), they each come with a pack of fragrance beads to be refilled every 1-2 weeks (depending on how much exposure to air).
Filled, mixed, or otherwise empty, it's an extraordinary design and an amazing accessory. Not sure your scent preferences? Visit their website and take their diagnostic test, known as the iSecntify fragrance finder to help you find your scent.
For more information on the collection visit LisaHoffmanBeauty.com
Disclaimer: Pretty Connected was given a sample of the bead bracelet for post consideration. Pretty Connected was under no obligation to write this review.